Total of 321 posts
Herein you'll find articles on a very wide variety of topics about technology in the consumer space (mostly) and items of personal interest to me. I have also participated in and created several podcasts most notably Pragmatic and Causality and all of my podcasts can be found at The Engineered Network.
I joined LibSyn for Pragmatic back in 2014 when I left FiatLux/Constellation to take the show Indie. Between 2015 and 2017 I left LibSyn and tried BluBrry, then hosted my own files on a server, before returning to LibSyn again.
I originally left due to cost concerns. LibSyn required that you have subscription for every unique podcast however with 6 separate podcasts at that point, many of which I wasn't producing content for regularly, just maintaining them and following LibSyn's rules was costing a fortune.
At the time I was still taking sponsorships and advertising and frankly, LibSyn's statistics were the best and met my needs at the time. When I returned however I restored Causality and Pragmatic, and cheekily added audio files from all other shows as direct download files incrementally to Pragmatic…risking LibSyn's wrath were I to be caught out. They didn't call me on it in the end.
Ultimately though I wasn't using any of their RSS Feed functionality after a failed flirtation with the "Causality App" they were hyping at the time. I was using LibSyn essentially for statistics and file storage - nothing more.
Three things happened over the space of 2 years that made me decide to finally pull the pin on LibSyn, and likely any podcast host in future:
The new User Interface (LibSyn Five) no longer included a File for Download Only option - everything had to be linked to an episode.
A fluffy reason: LibSyn's attitude about having been the longest-running podcast host was wearing really thin. Some of their senior leaders were proving they weren't nice people either, and really rubbed me up the wrong way. (I'll let you Google that yourself)
Statistics could now be openly and professionally tracked using the OP3 project. Causality Stats
I'm not normally one to include "fluffy-feely-reasons" but the trend I've seen in LibSyn's behaviour on "The Feed" podcast led me to stop listening back in 2021, and their attitude of having been the longest-standing podcast host meaning they understood the landscape the best, was less and less true with every passing week. It was frankly becoming embarrassing to even mention their analysis of pretty much anything.
The LibSyn product (interface) was being redesigned in v5 to compete with others in the marketplace insofar as it was more aimed at newbies/non-tech users (which is fine) and that wasn't for me. Increasingly this is the case for all podcast hosts - the more technical of podcasters need not apply. That's not a judgement, but it is a trend.
Finally if I could choose to spend about $10USD/m on hosting/statistics then I'd rather support an open project and file storage of my own choosing/control than to continue to support LibSyn.
Having spoken with my friends in the PC2.0 space, I shifted my Media to an S3-compatible storage bucket, backed by CloudFlare's CDN and tested to confirm download speeds were as fast as LibSyn. Those tests ended a few weeks ago and now I've left LibSyn - this time for good.
In my efforts to support the Podcasting 2.0 initiative, I've had a stab at developing transcripts for Causality. I first started on this before PC2.0 back in 2018 and again later that year where I was using Dragon Dictate with only very average results.
I then went on and tried YouTube, since via LibSyn I'd been publishing YouTube auto-generated videos for Pragmatic and Causality episodes for several years, and I realised I could extract the SRT files from YouTube. They were substantially better but still had issues that required a significant amount of effort to bring them up to a standard I would accept on TEN.
Using Subtitle Studio I was able align, tweak and correct the files then publish them to the site. All the plumbing has been built so all I needed to do was add the SRT file and job done.
Unfortunately however, the process of correcting the numerous errors in the YouTube SRT was monstrous. A 45 minute episode would take me 4-5 hours to fix all of the SRT errors. I edited Episodes 3, 11, 17, 18, 22, 31, 32, 35, 36, 47 and simply burned out. I lost many weekends, long nights and the pay off was precisely zero. No listeners gave any feedback of any kind either way and so…I stopped bothering.
Irrespective of whether you think I should just put up rubbish transcripts anyway, or how you choose to interpret the legal requirements for posting transcripts in your specific country, I still wanted to do this…so when I saw people discussing an OpenAI derived project MacWhisper, I gave it a shot. The results were, frankly, transformative.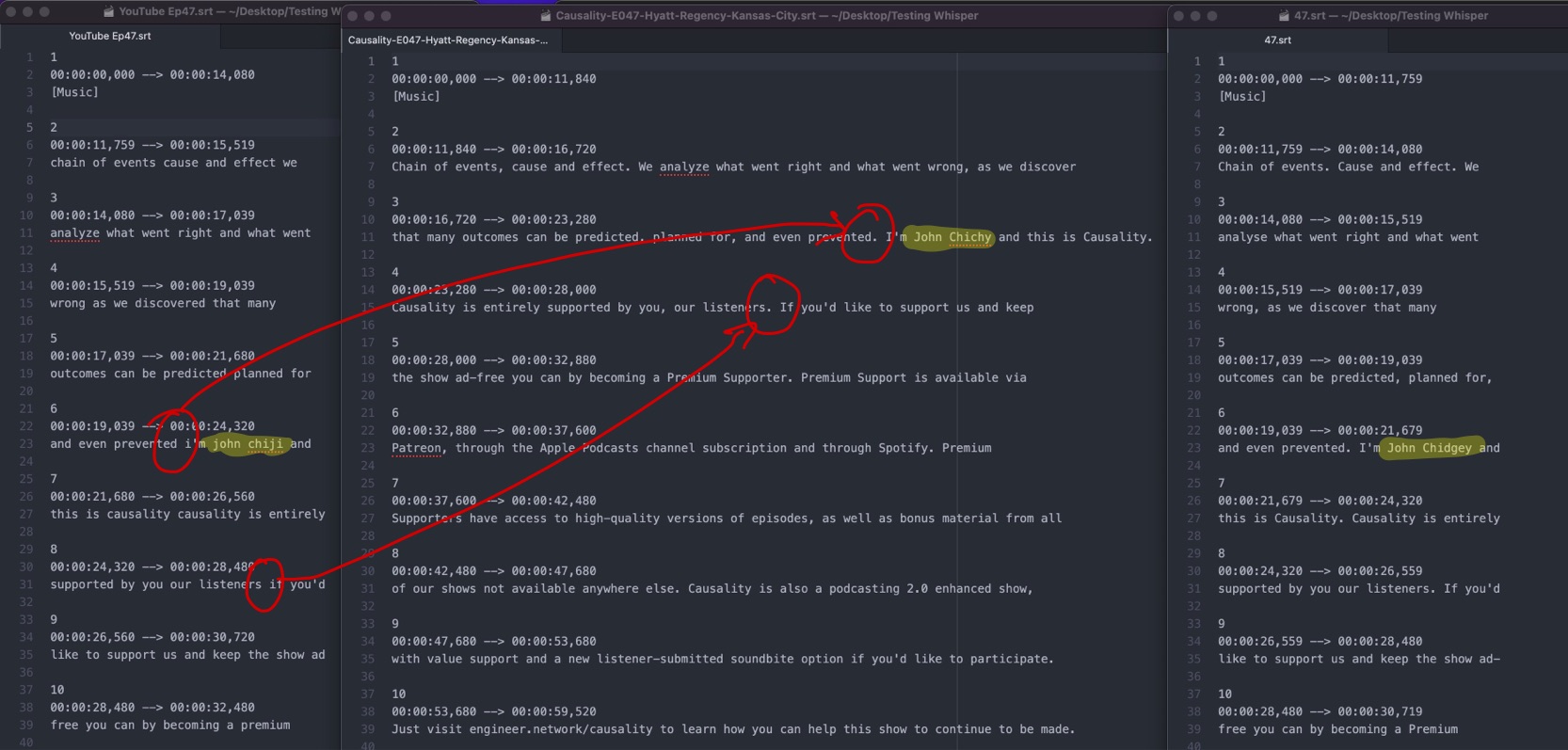 The screen shot on the Left is the YouTube SRT, the middle is Whispers, and the Right is my corrected YouTube SRT. In the above comparison note that with a dodgy name like "Chidgey" no-one gets it right except me. That's fine. It's a cross I have to bear I guess and that's okay. The first point of note: Whisper nails the punctuation almost every time! For every missed Full Stop, there's a missed following capitalisation. That's a huge time saver!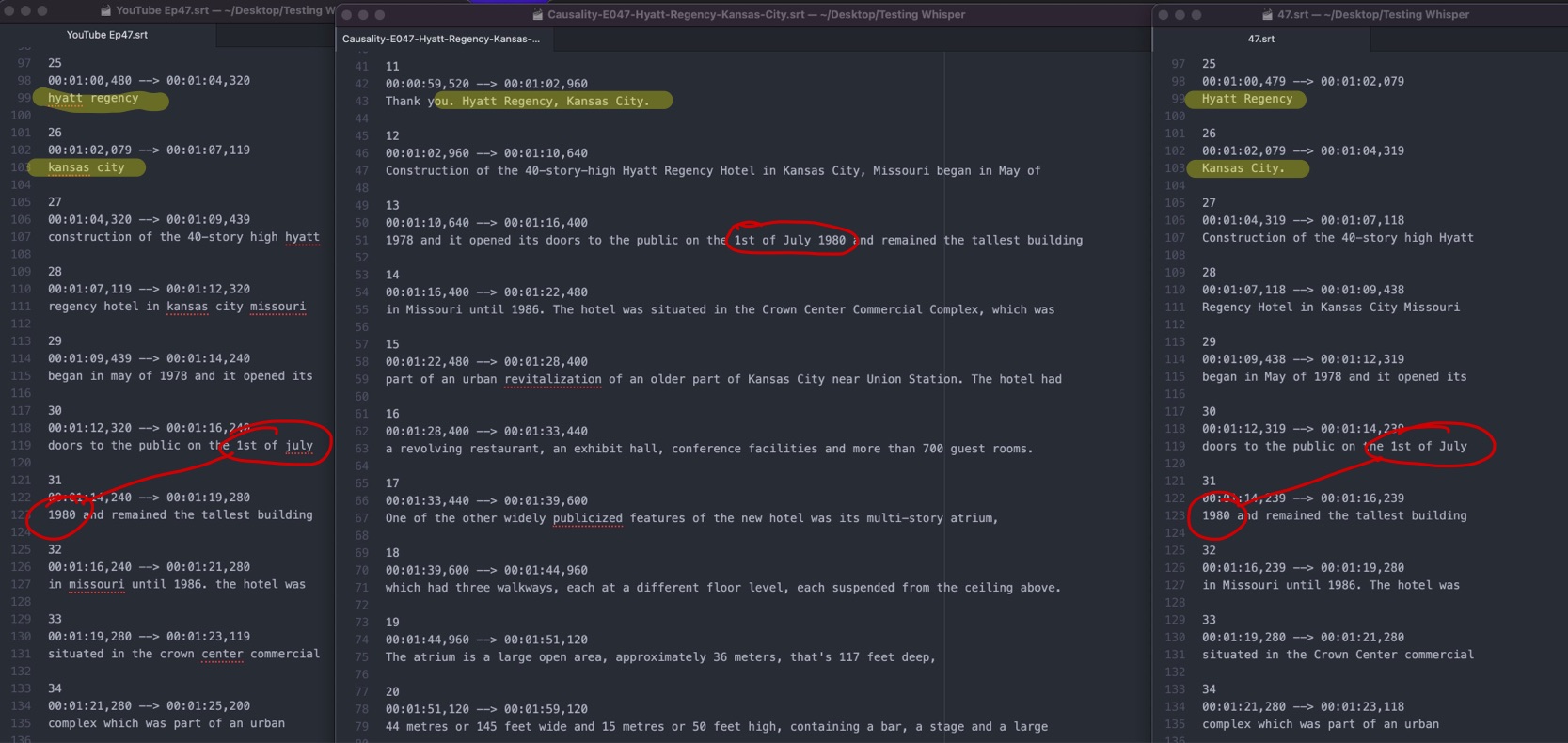 Again Whisper nails the capitalisation of the correct words - in this example above, the title of the episode and it also inserts a comma which arguably I missed in mine. I also like how Whisper capitalises the date for me too. Not too shabby.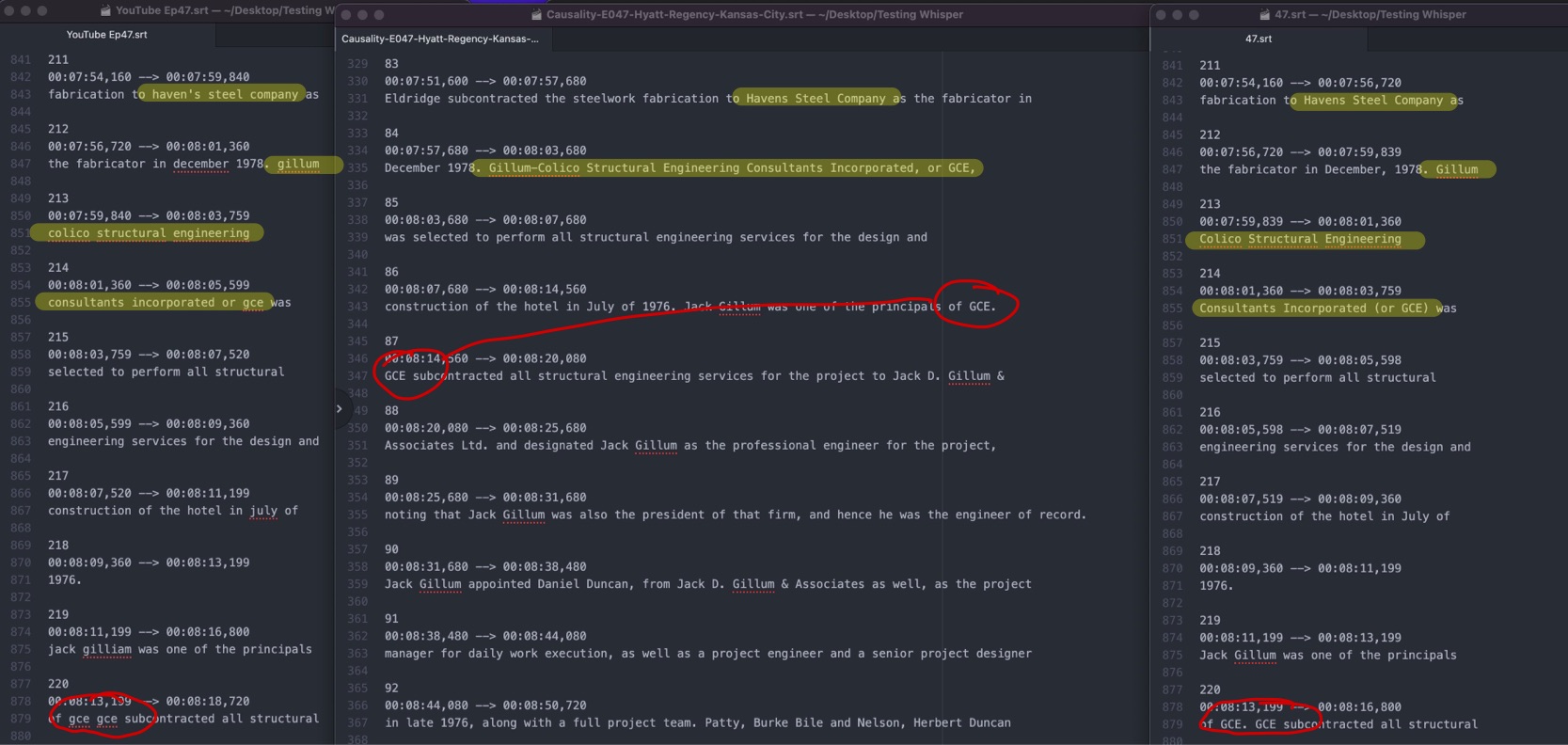 Here's where I lost so much time in the past with the YouTube SRT: Company names. Not only did Whisper get the capitalisation and punctuation correct (Yellow Highlight) the only tweak I would add is adding parenthesis around "or GCE" but otherwise perfect! Again, Whisper nails the capitalisation of GCE (the company name) and the punctuation between sentences. Amazing!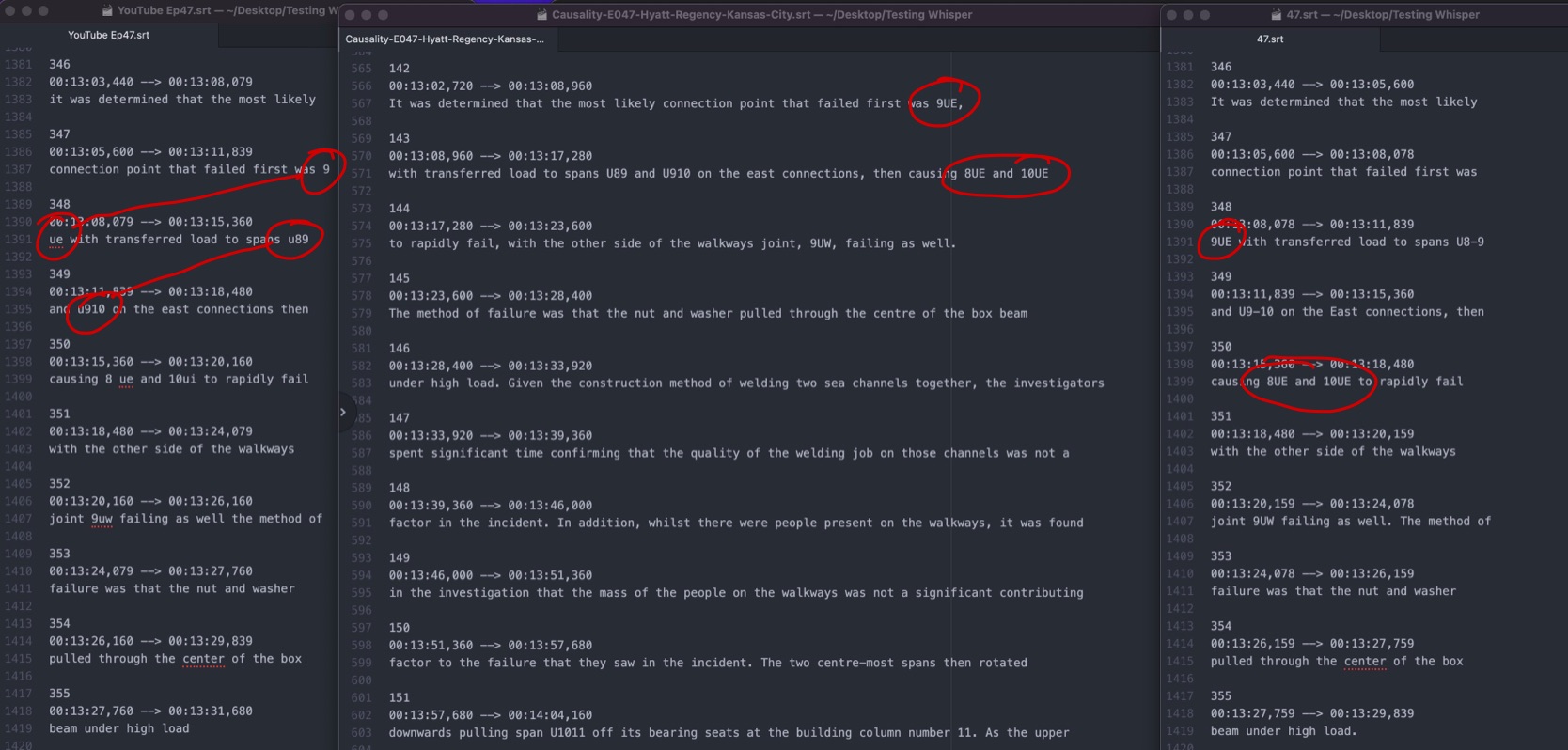 The last and hardest part now is the technical terminology which is always a struggle for AI transcripts. YouTube put 9 ue when it should be 9UE, but Whisper nails that once again. YouTube does get the next two correct but didn't capitalise 8UE and 10UE where Whisper did.
---
With the above results I'm just blown away and last night I began transcribing every Causality episode using MacWhisper on the Best accuracy model (2.8GB) to get the best result I can. I'll work my way through the back catalogue but hopefully the editing times for SRTs will be significantly reduced and I can finally post word-accurate transcripts to TEN.
To celebrate the 50th episode of Causality on (my podcasting site) TEN we're releasing a range of Tee-shirts and smartphone cases by Cotton Bureau! Which can only mean that the TEN Store is once again open!!
I've released the first ever, TechDistortion Tee-Shirt for the true die-hard fans of this blog! It will remain open with items on sale only for a limited time, so grab something you like…while you can!
All Patreon supporters on TEN have access to a special discount off their purchase, should they wish to: for details Patrons should check the TEN Patreon page.
All Tee-shirts are by Cotton Bureau and you can choose from a Tee-Shirt (Standard or Heavyweight), Sweatshirt, Tank-top or a Onesie (for infants!), fitting for Men, Women, Youth or Toddlers too. With a choice of fabrics from Natural Tri-Blend, Black 100% Cotton or a Navy Blue 100% Cotton all in a wide range of sizes.
The Original Tech Distortion Shirt: Without Distortion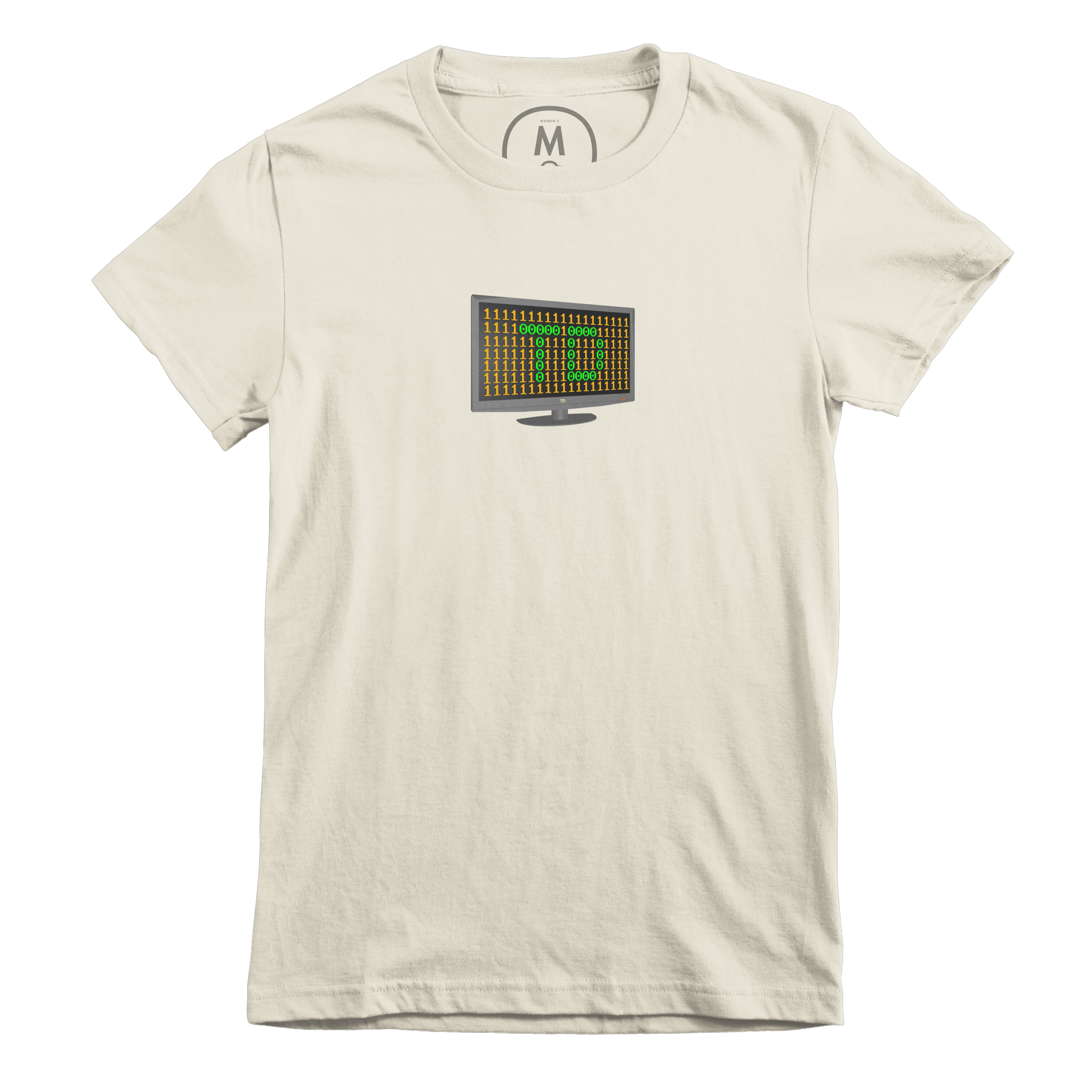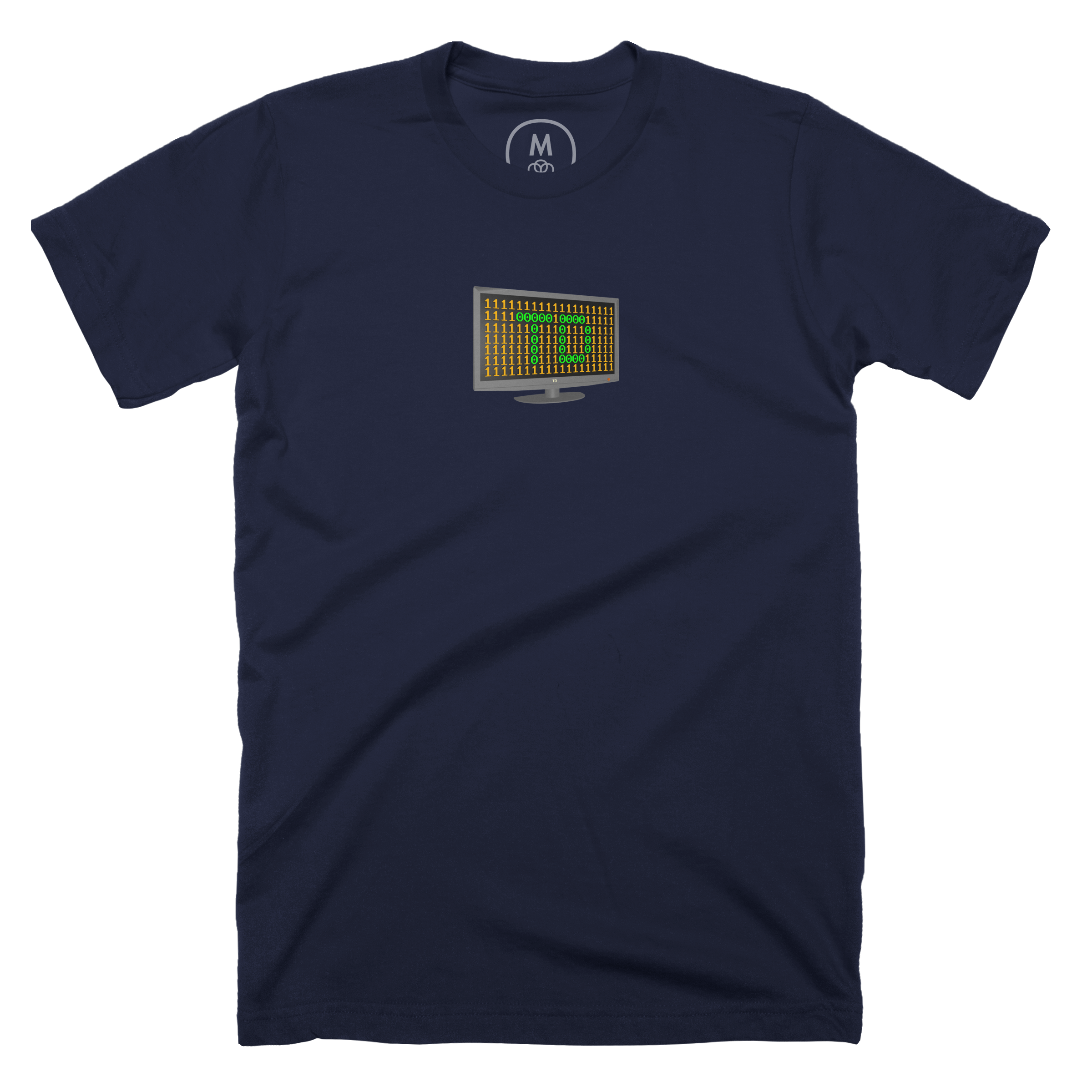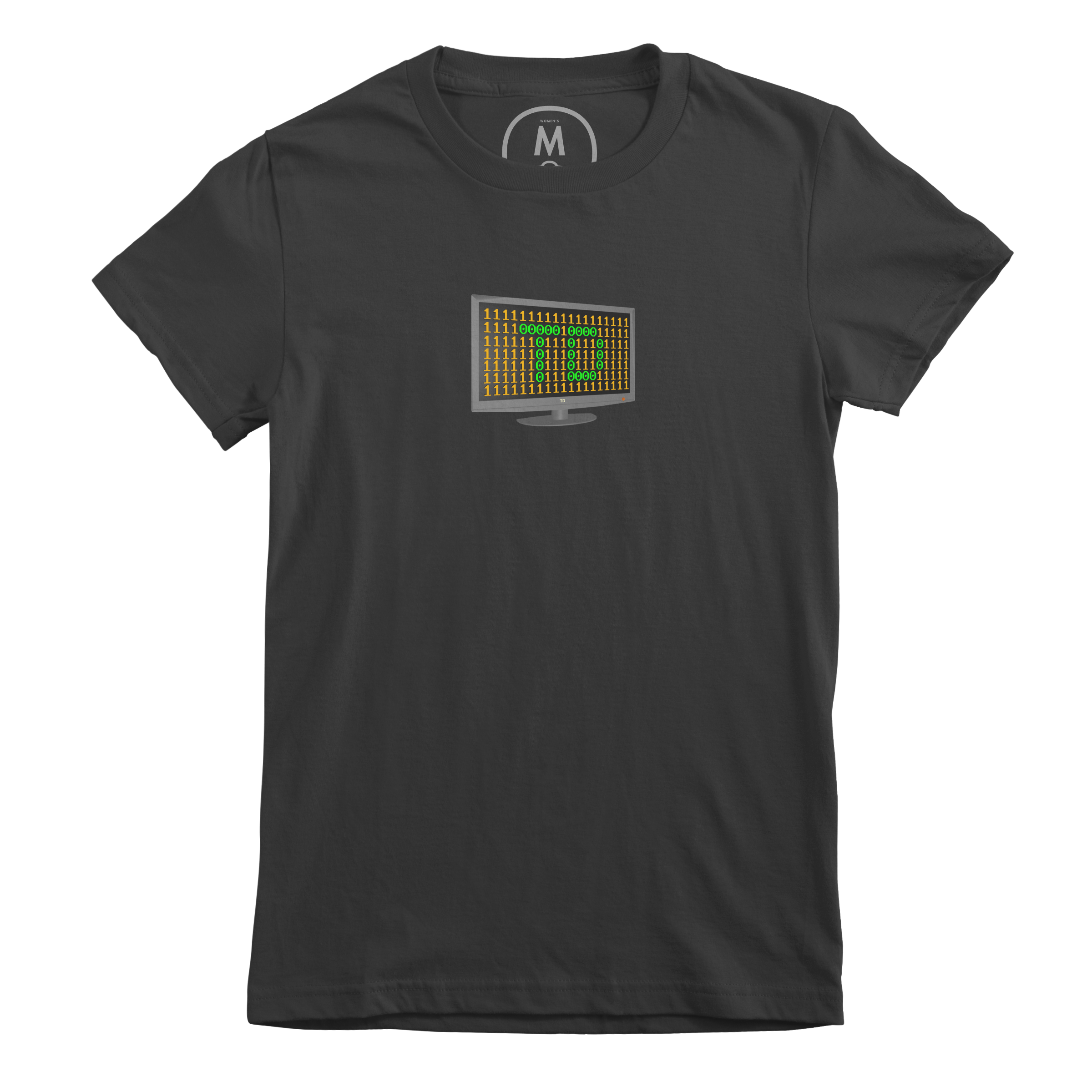 Being a very happy (for the most part) Tesla Model 3 owner for over 9 months now, and with 22k on the clock I've finally decided it's time to write down some areas for improvement for this amazing vehicle. These aren't physical change suggestions or anything complicated and I have four to suggest.
I could point out things like better water resistance of the electric window components (mine have developed a squeak on raise/lower whereas my Honda Jazz is going over 8 years without a single squeak ever from any of its electric windows) or a non-bluetooth auto-unlock proximity sensor (long story) instead I'm going to focus initially on things that are simple software tweaks.
I'm certain that Tesla get a lot of these requests and I'm also sure that Elon Musk is a busy man (okay I know he is) so these many not find their way to implementation in the short term but I'll settle for a feature that's on a backlog list somewhere for a future update - even if it's a few years down the road.
None of these are Rocket Science Mr Musk sir, that's the other company you also run…where it really, actually is…
FM Radio: Add a Seek Function
When you're in range of cellular data (so far as I can tell) another option appears called "Stations" which is a list of FM stations that the Tesla believes it can find or that should be there based on your location. But if that's not there, you can direct tune if you know the exact frequency you're looking for. However under "Direct Tune" there is no way to 'Seek' for an FM Station as the current screen looks today: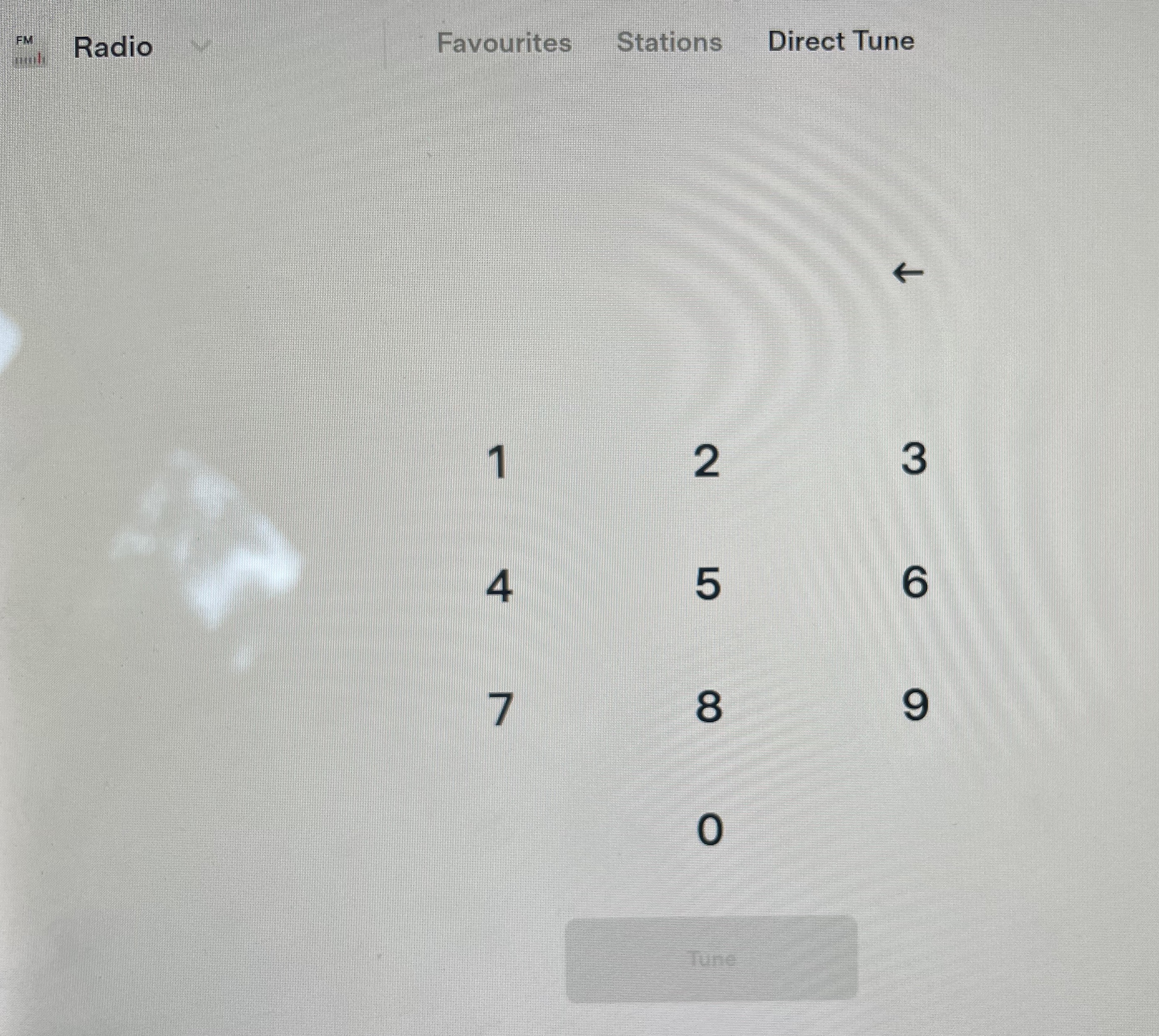 In my experience on roads only a few hours inland from Brisbane, direct entry found listenable stations on FM (minimal fade and chop) and yet they didn't show up in a Stations List. A very simple set of seek buttons like every other digital FM Radio I've ever used has, would be very helpful.
REQUEST: Add a "Seek +" and a "Seek -" button on the Direct Tune FM Radio screen.
Air-Conditioning Slide-up View Without Starting the A/C
In V11 user interface, when you want to adjust the details of the Air-Conditioning, you need to tap the temperature which slides up the panel. If the A/C is currently off, this single tap automatically turns on the A/C, which more often than not is NOT what I need to do. I just want to confirm if the Recycle is open to vent for example, or to adjust the set heaters in the rear.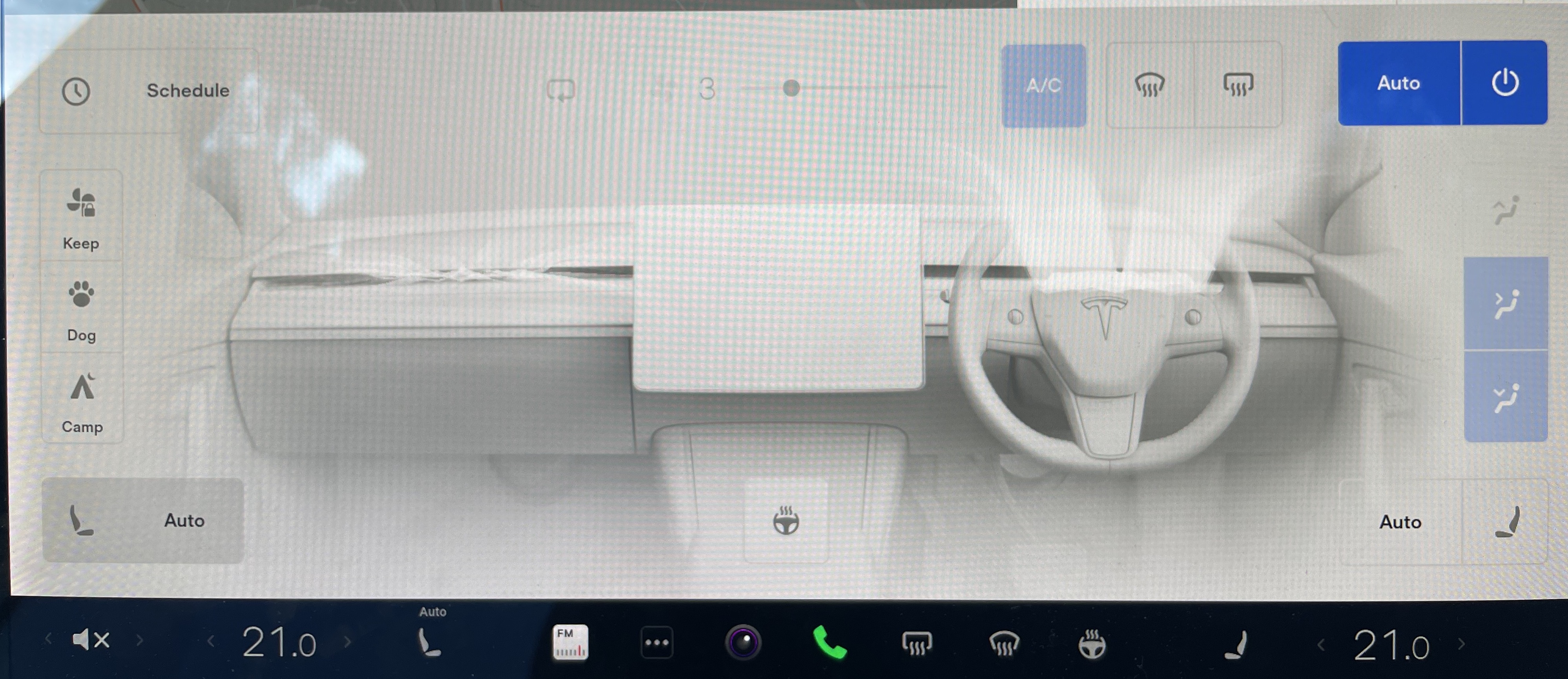 Pressing and holding the temperature will toggle the A/C on or off without raising the panel. Tesla added some short-cuts to the menu bar to adjust the front seat heaters and the steering wheel heater but there are still plenty of other useful functions that are contained within the main slide-up view. If the A/C is currently off it's because I turned it off and want it to stay off.
REQUEST: Change a tap to the temperature to slide up the panel only, irrespective of whether the A/C is running or not.
Mirror Dimming: Add Manual Enable/Disable
The (re)addition of dimmable mirrors in mid-2020 was welcomed by Tesla drivers however there's only one option in the menu system to enable "Auto Dim" mirrors. If enabled, the side mirrors as well as the interior rear-view mirror will dim provided the car is in Drive, the angle of the sun is 5 degrees below the horizon and the headlights are turned on.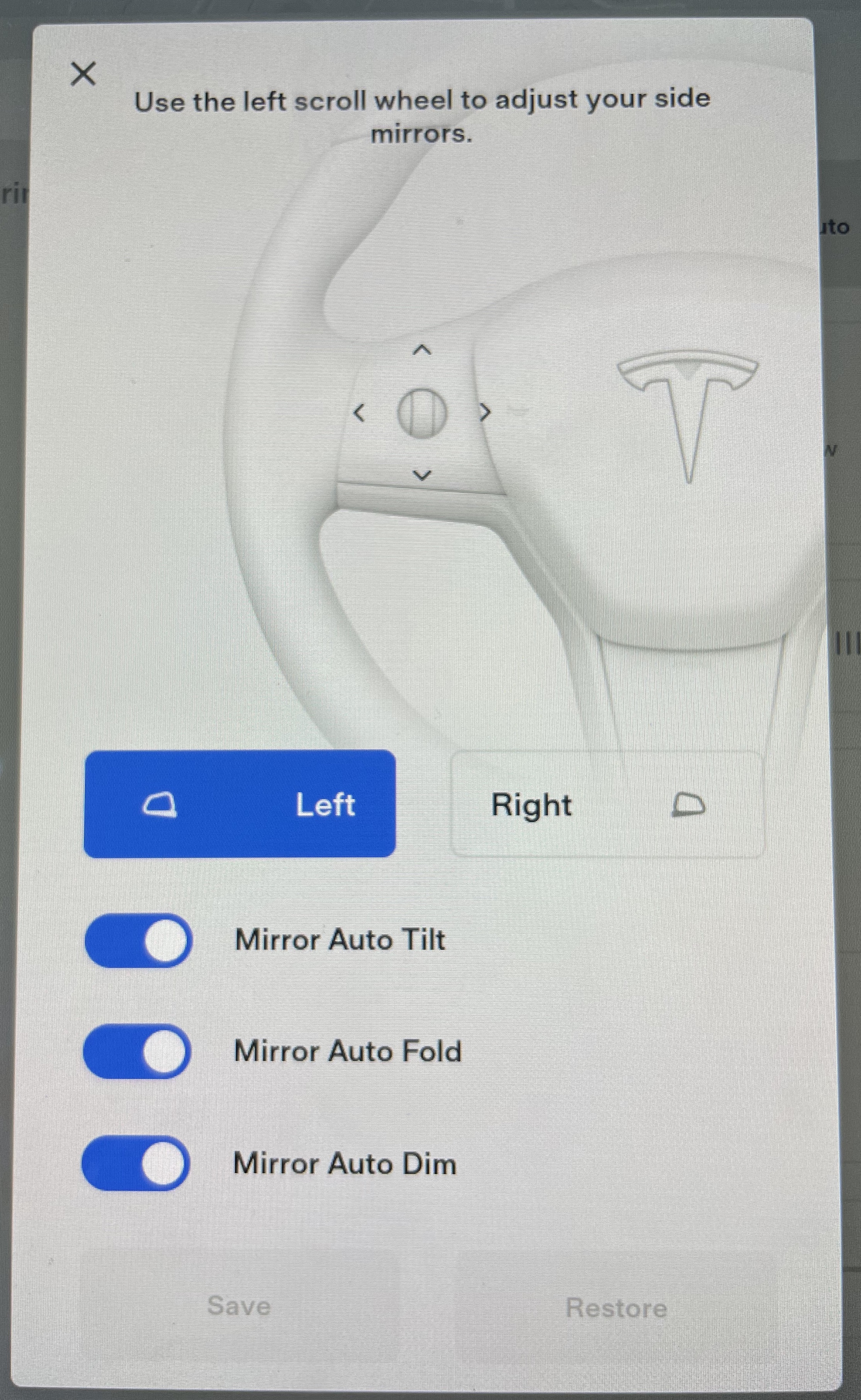 The problem with this is that many drivers turn on their lights before sunset and with its low ride height the Model 3 gets plenty of larger 4WDs blaring into your eyes 30 minutes or more before the Tesla logic will permit the dimming. In every other car I've ever owned, if I needed to dim the mirror I'd flip the metal/plastic toggle on the rearview mirror and instant dimming would occur.
REQUEST: Add a toggle button to turn the Dimming On and Off that's quickly accessible.
Predictive Speed Reduction in AutoPilot
When in full AutoPilot, the Tesla attempts to read the speed sign and when the Tesla passes in-line with that sign, it will automatically adjust the speed limit up (if it was set higher as it's Max set-speed previously in the drive) or it will adjust the speed limit down accordingly.
Going up is fine, but going down isn't, since it only drops your speed once you've passed the sign meaning that until the cruise-control lag slows the car down you've been speeding for a hundred meters or so after the speed limit dropped when you're dropping from 100 to 80 kph for example.
The fix is simple using Newtons second law of motion. You have depth perception (and a GPS too) in a Tesla so you could calculate the distance between the current position and the upcoming speed sign change position, so figure out based on the deceleration curve when to start slowing down so you reach the speed limit when you actually pass the sign.
In Australia the police will intentionally set up speed traps in those spots trying to catch drivers out…it's a speeding ticket waiting to happen.
REQUEST: Add a toggle in Autopilot for "Predictive Speed Reduction"
Other Articles
For reference I've written a lot of articles about my Model 3 in the past 9 months.
I'm sure there's more, but that's enough for now.