Total of 320 posts
Herein you'll find articles on a very wide variety of topics about technology in the consumer space (mostly) and items of personal interest to me. I have also participated in and created several podcasts most notably Pragmatic and Causality and all of my podcasts can be found at The Engineered Network.
In my efforts to support the Podcasting 2.0 initiative, I've had a stab at developing transcripts for Causality. I first started on this before PC2.0 back in 2018 and again later that year where I was using Dragon Dictate with only very average results.
I then went on and tried YouTube, since via LibSyn I'd been publishing YouTube auto-generated videos for Pragmatic and Causality episodes for several years, and I realised I could extract the SRT files from YouTube. They were substantially better but still had issues that required a significant amount of effort to bring them up to a standard I would accept on TEN.
Using Subtitle Studio I was able align, tweak and correct the files then publish them to the site. All the plumbing has been built so all I needed to do was add the SRT file and job done.
Unfortunately however, the process of correcting the numerous errors in the YouTube SRT was monstrous. A 45 minute episode would take me 4-5 hours to fix all of the SRT errors. I edited Episodes 3, 11, 17, 18, 22, 31, 32, 35, 36, 47 and simply burned out. I lost many weekends, long nights and the pay off was precisely zero. No listeners gave any feedback of any kind either way and so…I stopped bothering.
Irrespective of whether you think I should just put up rubbish transcripts anyway, or how you choose to interpret the legal requirements for posting transcripts in your specific country, I still wanted to do this…so when I saw people discussing an OpenAI derived project MacWhisper, I gave it a shot. The results were, frankly, transformative.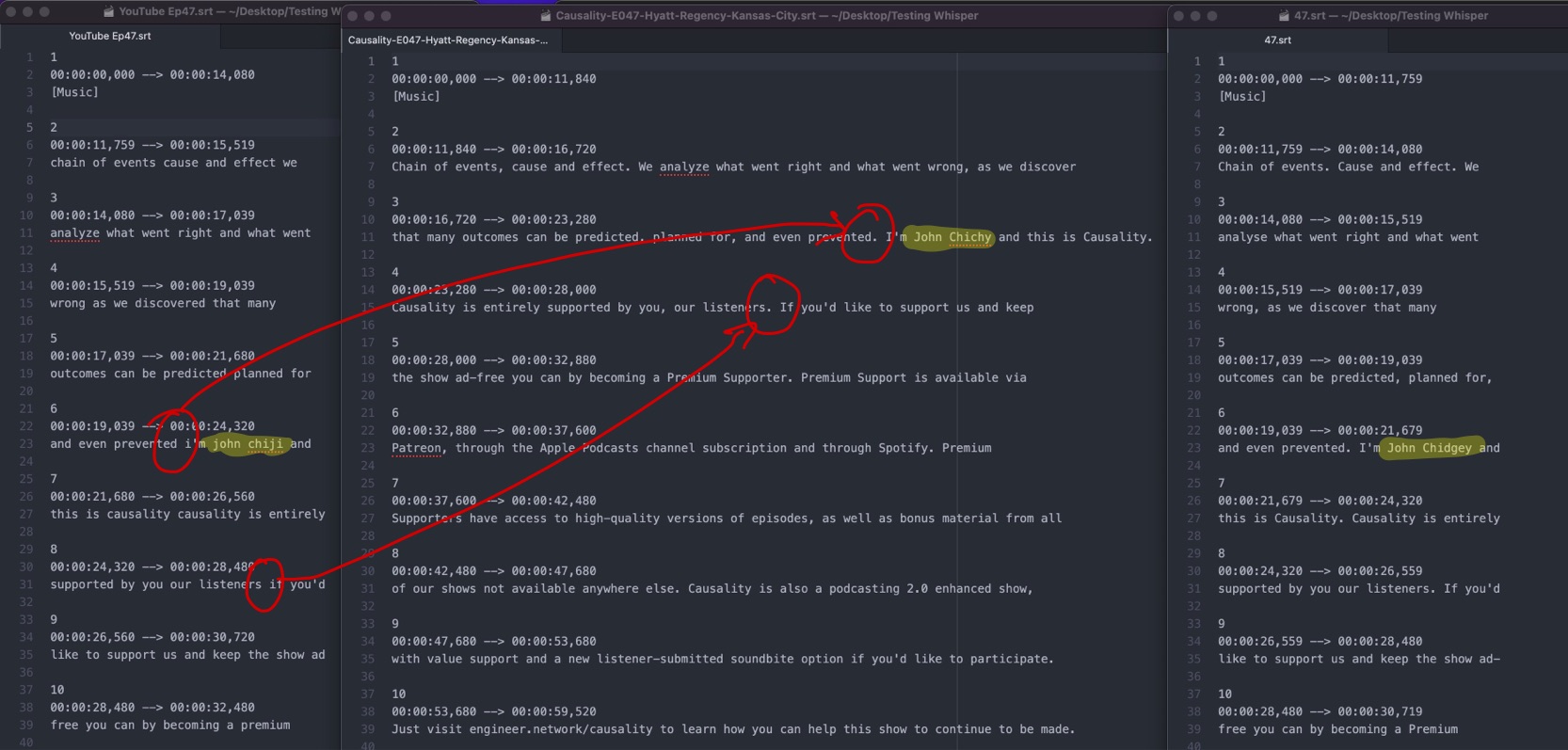 The screen shot on the Left is the YouTube SRT, the middle is Whispers, and the Right is my corrected YouTube SRT. In the above comparison note that with a dodgy name like "Chidgey" no-one gets it right except me. That's fine. It's a cross I have to bear I guess and that's okay. The first point of note: Whisper nails the punctuation almost every time! For every missed Full Stop, there's a missed following capitalisation. That's a huge time saver!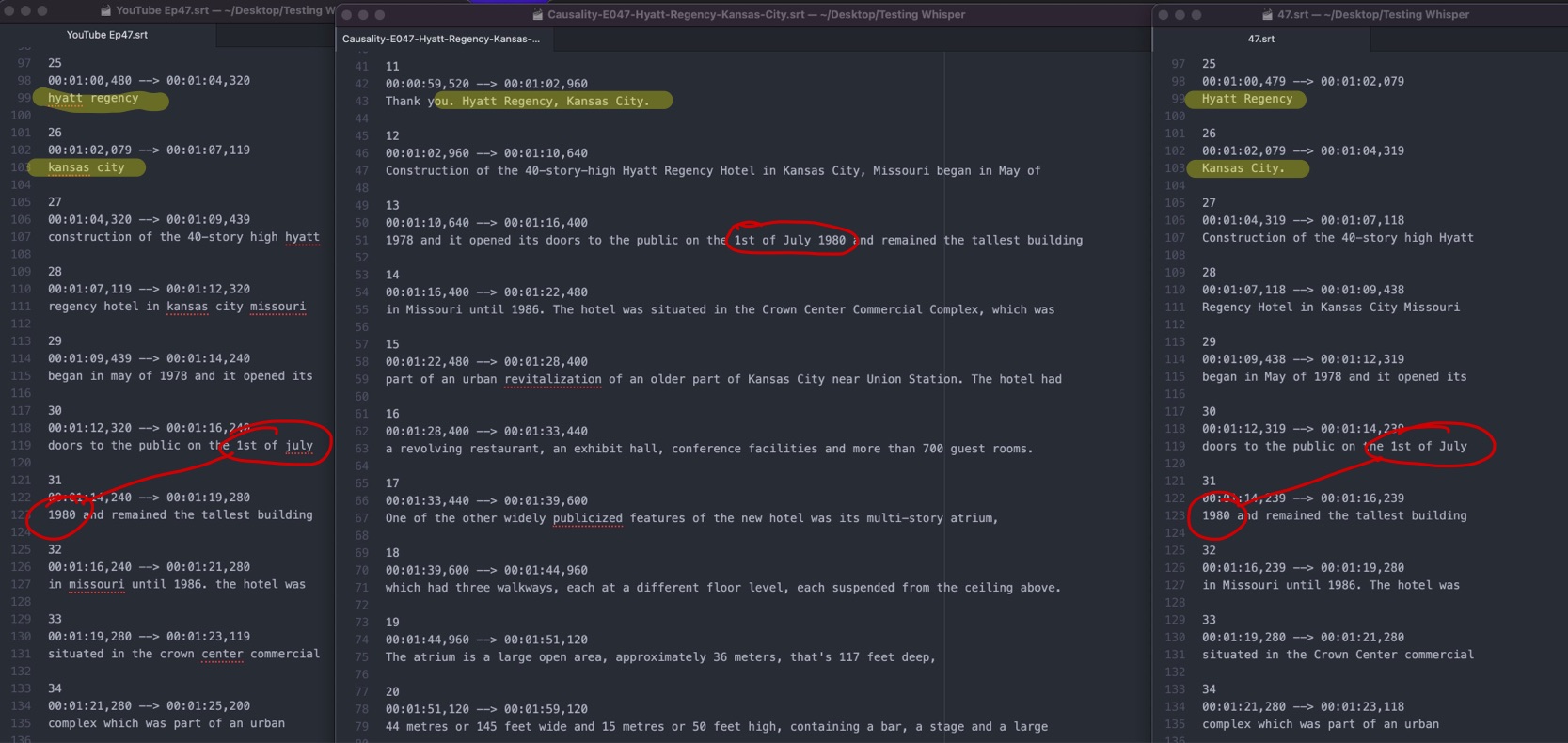 Again Whisper nails the capitalisation of the correct words - in this example above, the title of the episode and it also inserts a comma which arguably I missed in mine. I also like how Whisper capitalises the date for me too. Not too shabby.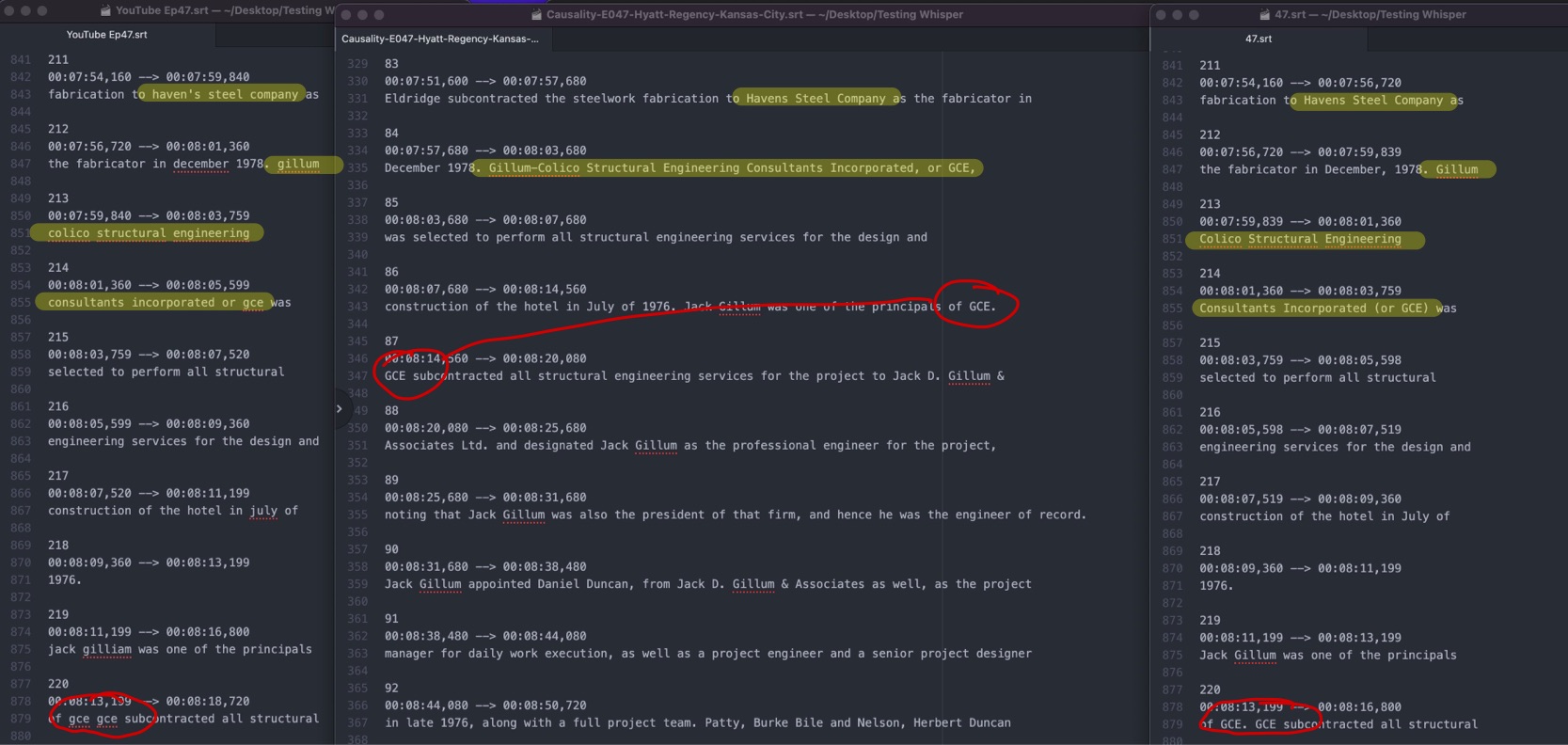 Here's where I lost so much time in the past with the YouTube SRT: Company names. Not only did Whisper get the capitalisation and punctuation correct (Yellow Highlight) the only tweak I would add is adding parenthesis around "or GCE" but otherwise perfect! Again, Whisper nails the capitalisation of GCE (the company name) and the punctuation between sentences. Amazing!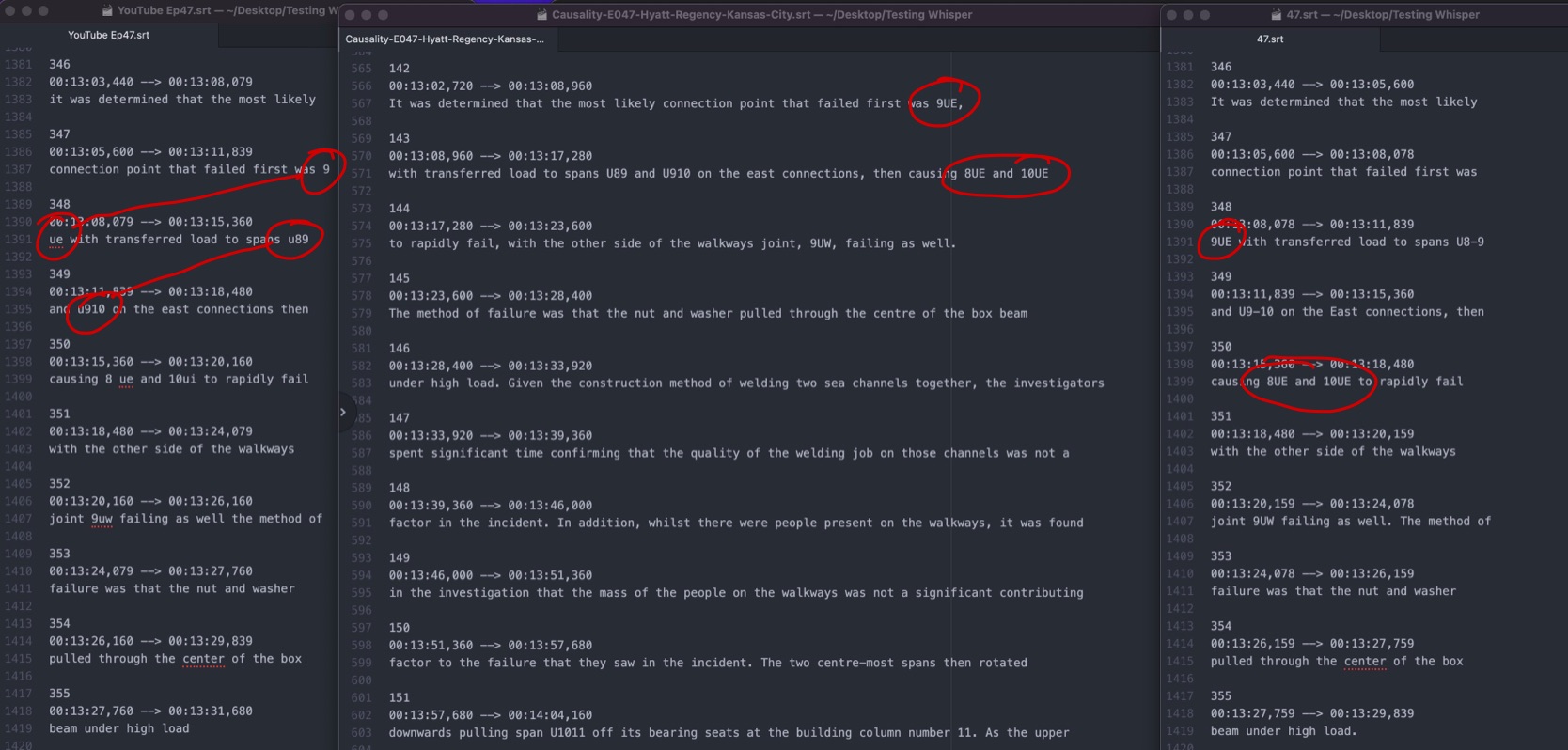 The last and hardest part now is the technical terminology which is always a struggle for AI transcripts. YouTube put 9 ue when it should be 9UE, but Whisper nails that once again. YouTube does get the next two correct but didn't capitalise 8UE and 10UE where Whisper did.
---
With the above results I'm just blown away and last night I began transcribing every Causality episode using MacWhisper on the Best accuracy model (2.8GB) to get the best result I can. I'll work my way through the back catalogue but hopefully the editing times for SRTs will be significantly reduced and I can finally post word-accurate transcripts to TEN.
To celebrate the 50th episode of Causality on (my podcasting site) TEN we're releasing a range of Tee-shirts and smartphone cases by Cotton Bureau! Which can only mean that the TEN Store is once again open!!
I've released the first ever, TechDistortion Tee-Shirt for the true die-hard fans of this blog! It will remain open with items on sale only for a limited time, so grab something you like…while you can!
All Patreon supporters on TEN have access to a special discount off their purchase, should they wish to: for details Patrons should check the TEN Patreon page.
All Tee-shirts are by Cotton Bureau and you can choose from a Tee-Shirt (Standard or Heavyweight), Sweatshirt, Tank-top or a Onesie (for infants!), fitting for Men, Women, Youth or Toddlers too. With a choice of fabrics from Natural Tri-Blend, Black 100% Cotton or a Navy Blue 100% Cotton all in a wide range of sizes.
The Original Tech Distortion Shirt: Without Distortion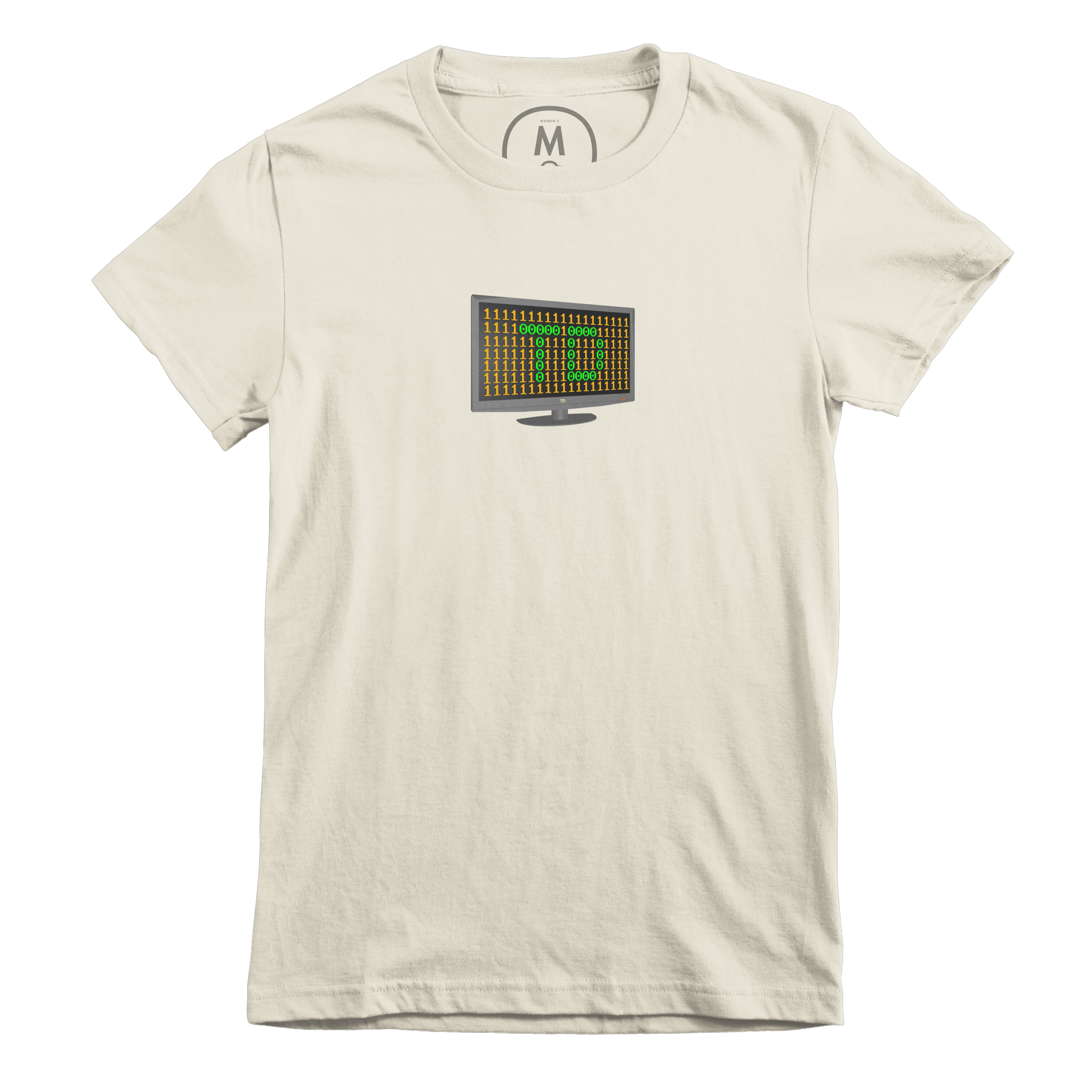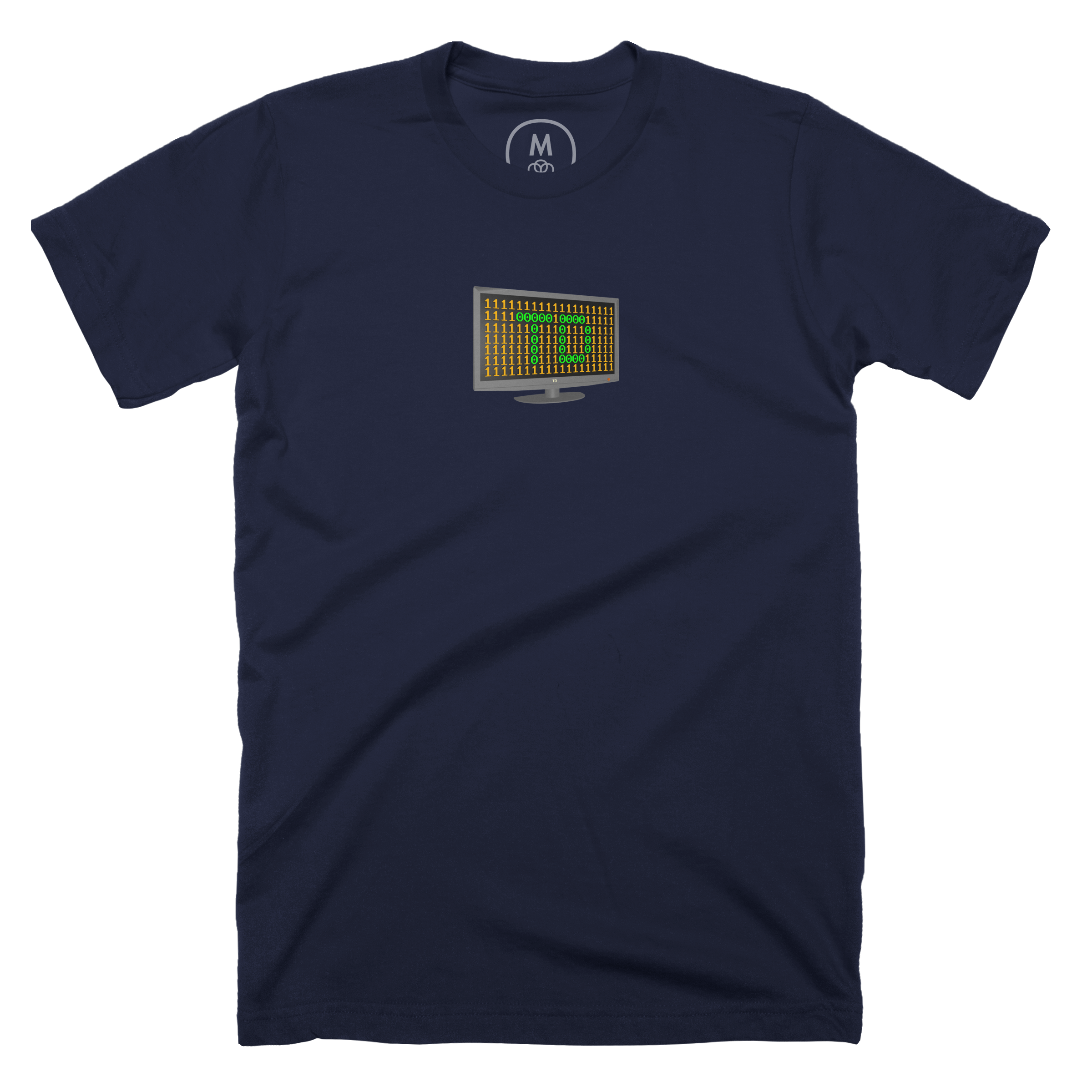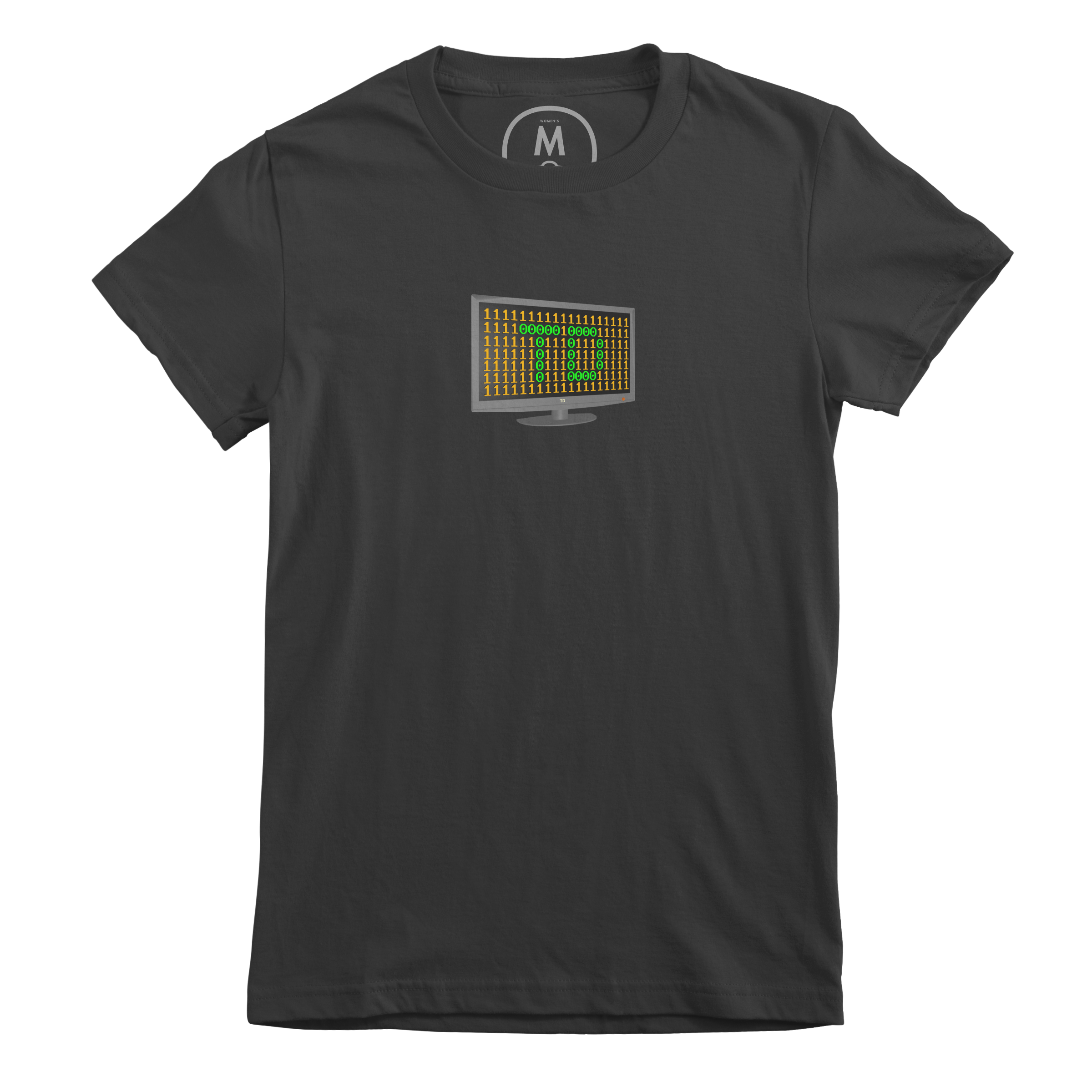 Being a very happy (for the most part) Tesla Model 3 owner for over 9 months now, and with 22k on the clock I've finally decided it's time to write down some areas for improvement for this amazing vehicle. These aren't physical change suggestions or anything complicated and I have four to suggest.
I could point out things like better water resistance of the electric window components (mine have developed a squeak on raise/lower whereas my Honda Jazz is going over 8 years without a single squeak ever from any of its electric windows) or a non-bluetooth auto-unlock proximity sensor (long story) instead I'm going to focus initially on things that are simple software tweaks.
I'm certain that Tesla get a lot of these requests and I'm also sure that Elon Musk is a busy man (okay I know he is) so these many not find their way to implementation in the short term but I'll settle for a feature that's on a backlog list somewhere for a future update - even if it's a few years down the road.
None of these are Rocket Science Mr Musk sir, that's the other company you also run…where it really, actually is…
FM Radio: Add a Seek Function
When you're in range of cellular data (so far as I can tell) another option appears called "Stations" which is a list of FM stations that the Tesla believes it can find or that should be there based on your location. But if that's not there, you can direct tune if you know the exact frequency you're looking for. However under "Direct Tune" there is no way to 'Seek' for an FM Station as the current screen looks today: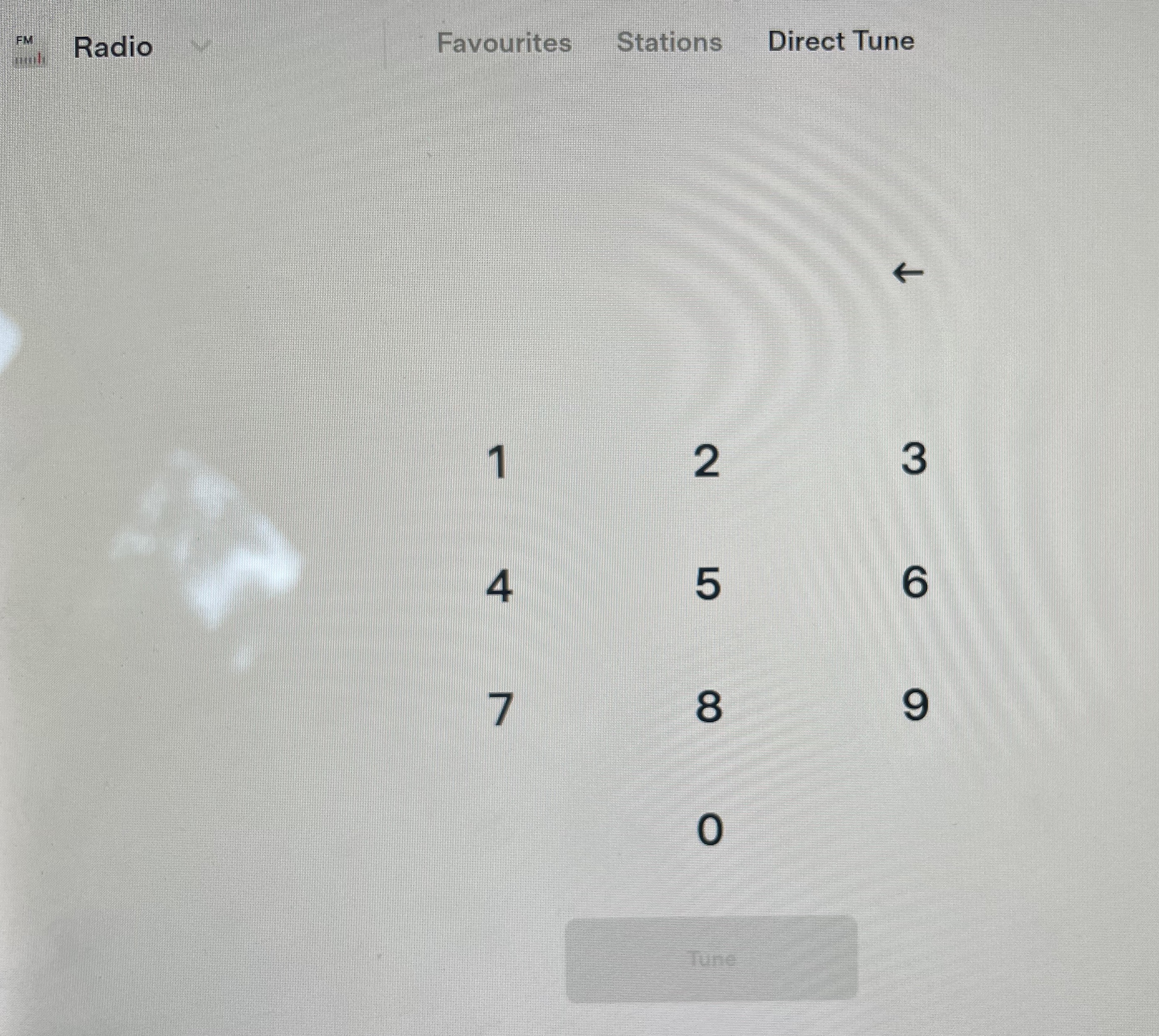 In my experience on roads only a few hours inland from Brisbane, direct entry found listenable stations on FM (minimal fade and chop) and yet they didn't show up in a Stations List. A very simple set of seek buttons like every other digital FM Radio I've ever used has, would be very helpful.
REQUEST: Add a "Seek +" and a "Seek -" button on the Direct Tune FM Radio screen.
Air-Conditioning Slide-up View Without Starting the A/C
In V11 user interface, when you want to adjust the details of the Air-Conditioning, you need to tap the temperature which slides up the panel. If the A/C is currently off, this single tap automatically turns on the A/C, which more often than not is NOT what I need to do. I just want to confirm if the Recycle is open to vent for example, or to adjust the set heaters in the rear.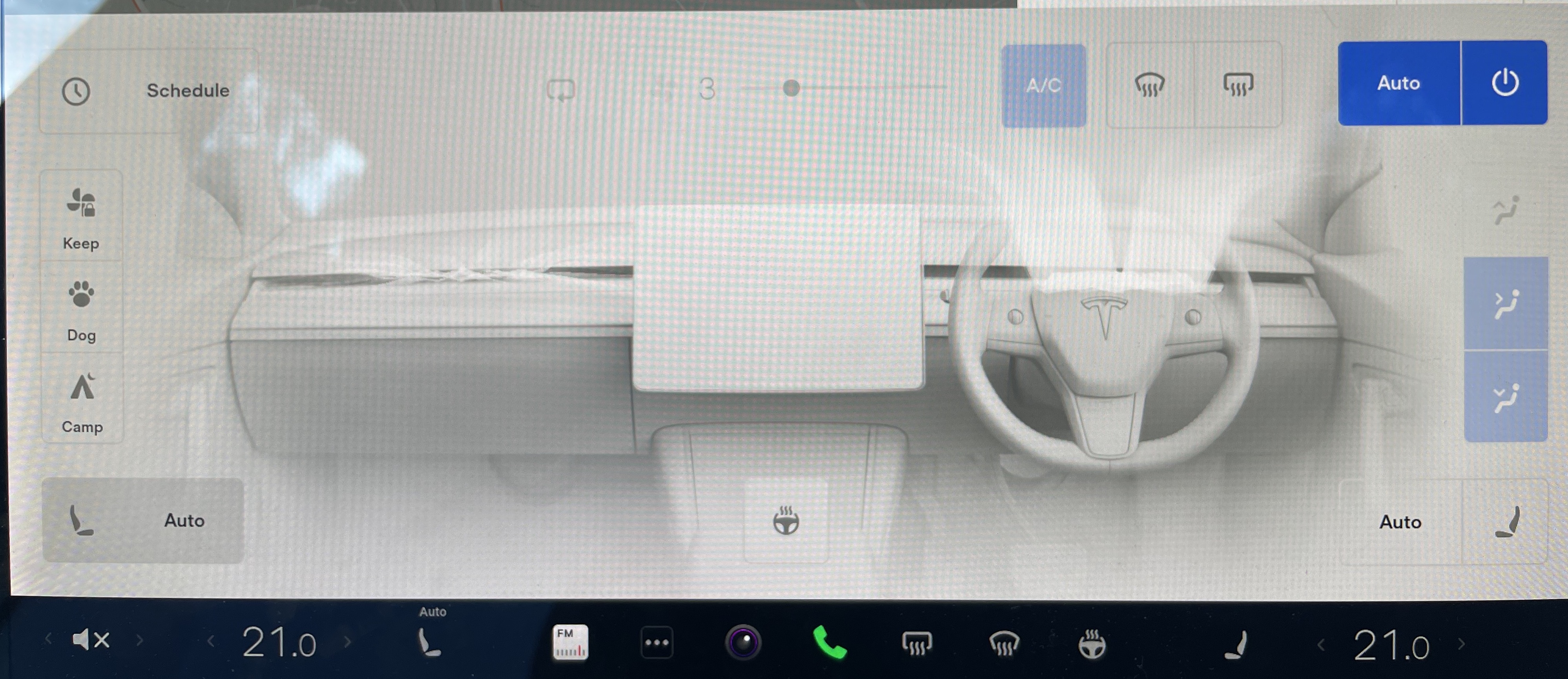 Pressing and holding the temperature will toggle the A/C on or off without raising the panel. Tesla added some short-cuts to the menu bar to adjust the front seat heaters and the steering wheel heater but there are still plenty of other useful functions that are contained within the main slide-up view. If the A/C is currently off it's because I turned it off and want it to stay off.
REQUEST: Change a tap to the temperature to slide up the panel only, irrespective of whether the A/C is running or not.
Mirror Dimming: Add Manual Enable/Disable
The (re)addition of dimmable mirrors in mid-2020 was welcomed by Tesla drivers however there's only one option in the menu system to enable "Auto Dim" mirrors. If enabled, the side mirrors as well as the interior rear-view mirror will dim provided the car is in Drive, the angle of the sun is 5 degrees below the horizon and the headlights are turned on.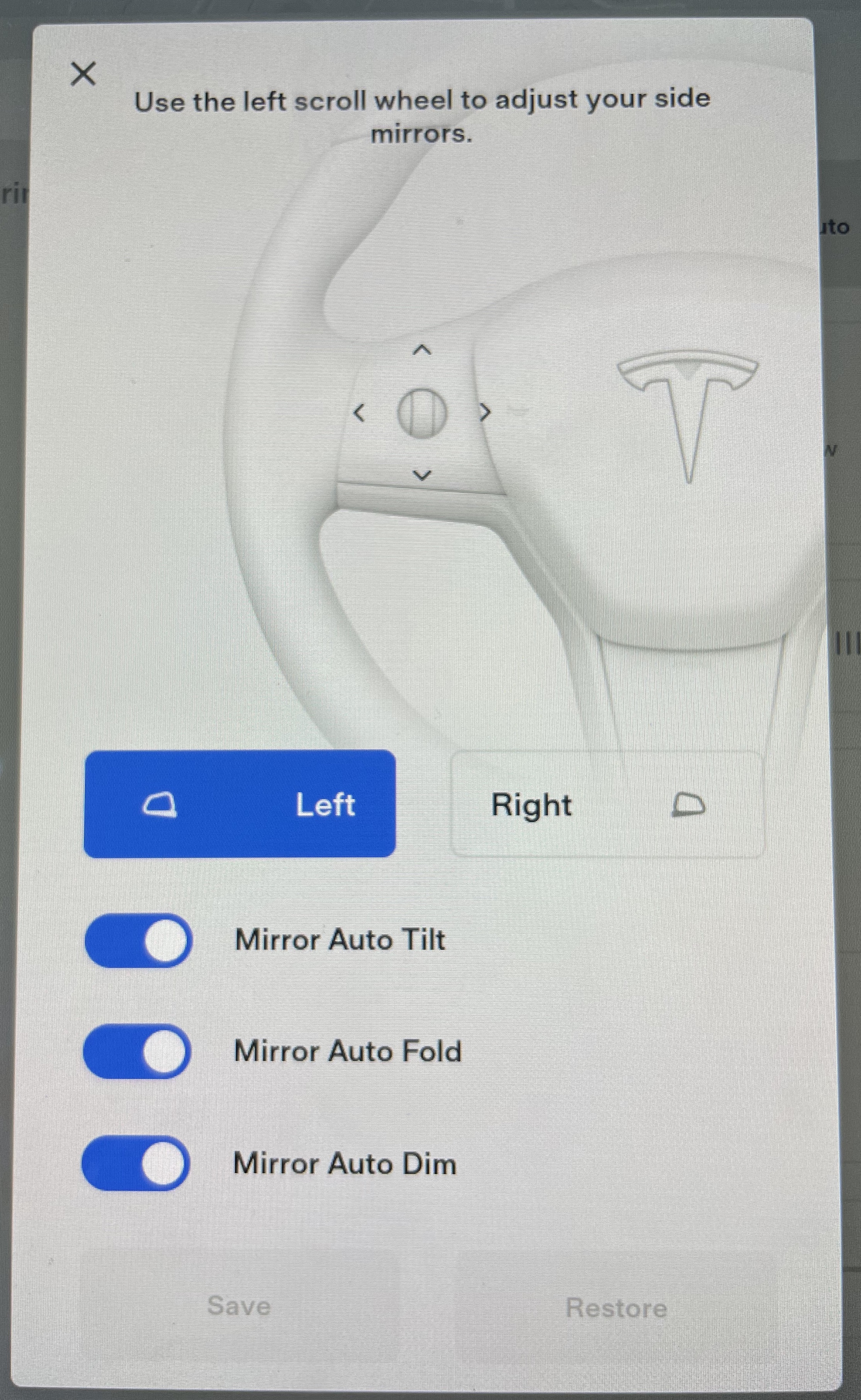 The problem with this is that many drivers turn on their lights before sunset and with its low ride height the Model 3 gets plenty of larger 4WDs blaring into your eyes 30 minutes or more before the Tesla logic will permit the dimming. In every other car I've ever owned, if I needed to dim the mirror I'd flip the metal/plastic toggle on the rearview mirror and instant dimming would occur.
REQUEST: Add a toggle button to turn the Dimming On and Off that's quickly accessible.
Predictive Speed Reduction in AutoPilot
When in full AutoPilot, the Tesla attempts to read the speed sign and when the Tesla passes in-line with that sign, it will automatically adjust the speed limit up (if it was set higher as it's Max set-speed previously in the drive) or it will adjust the speed limit down accordingly.
Going up is fine, but going down isn't, since it only drops your speed once you've passed the sign meaning that until the cruise-control lag slows the car down you've been speeding for a hundred meters or so after the speed limit dropped when you're dropping from 100 to 80 kph for example.
The fix is simple using Newtons second law of motion. You have depth perception (and a GPS too) in a Tesla so you could calculate the distance between the current position and the upcoming speed sign change position, so figure out based on the deceleration curve when to start slowing down so you reach the speed limit when you actually pass the sign.
In Australia the police will intentionally set up speed traps in those spots trying to catch drivers out…it's a speeding ticket waiting to happen.
REQUEST: Add a toggle in Autopilot for "Predictive Speed Reduction"
Other Articles
For reference I've written a lot of articles about my Model 3 in the past 9 months.
I'm sure there's more, but that's enough for now.
This weekend gone I was invited to visit an extended family member's Pub in Monto. For my wife and I it was a bit of an adventure - somewhere neither of us had been before and for me, staying a few nights in a country pub was something I hadn't done for over 25 years.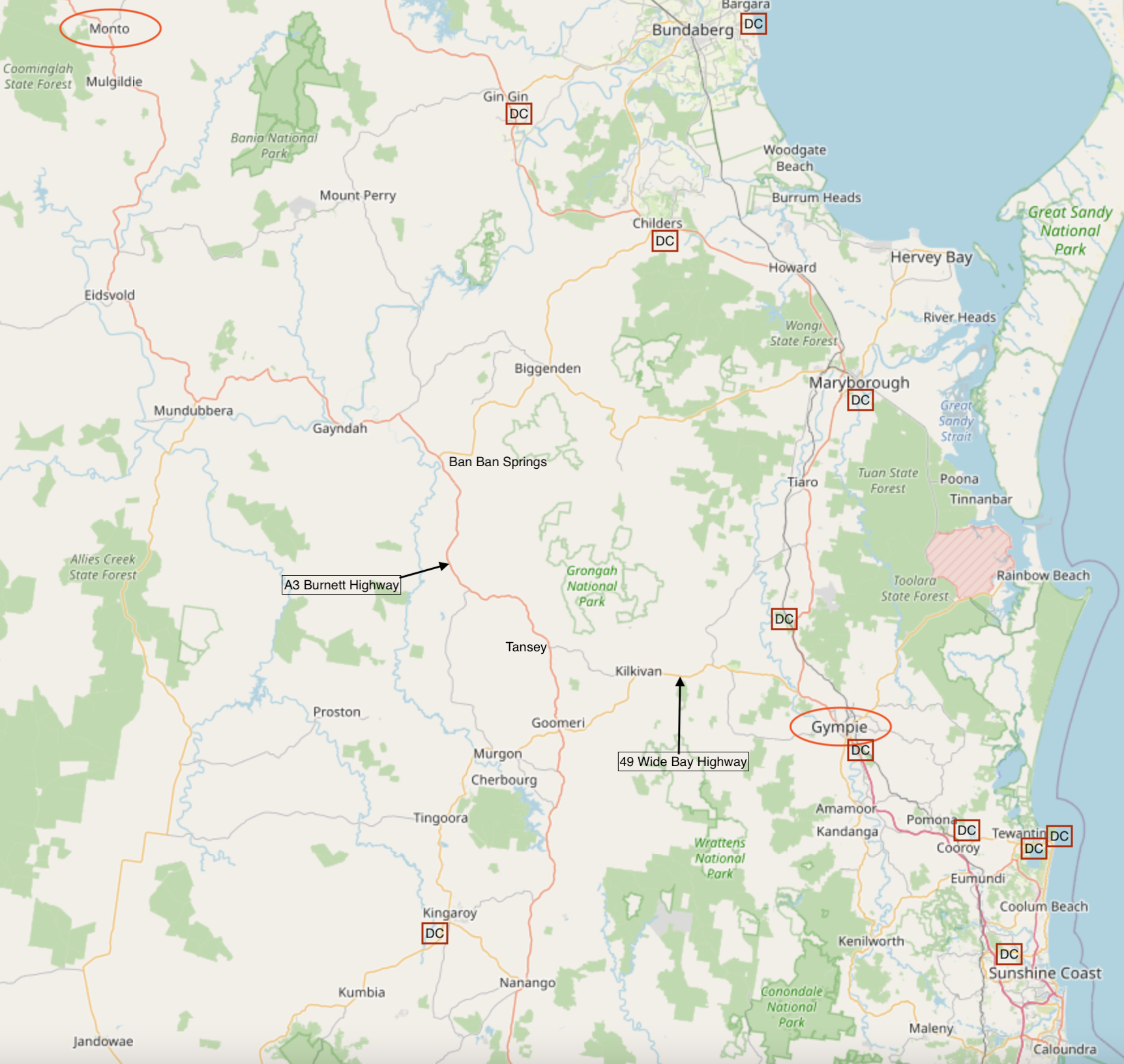 Monto is located off the main highways in Queensland and yet, I wanted to take the Tesla and see how it handled the long road trip. Monto is about 5 hours drive from my home about 400k's (250 miles) one way. The shortest route takes the Bruce Highway North to Gympie where there are two DC Fast Charging locations and then the route turns inland via Kilkivan via the Wide Bay Highway, then a short-cut to Tansey, then to Eidsvold and eventually Monto via the Burnett Highway. After Gympie there are no charging points at all. None. No DC Chargers, CCS-2 Combo or CHaDeMo connections, no AC outlets meaning no 3-Phase outlets, no Type 2 or even Type 1 charging points. You're down to a standard 10A household outlet or if you're lucky a 15A outlet.
There are two short-cuts between the Burnett Highway and the Bruce Highway where all the DC Fast Chargers are: via Kalpower which is effectively a dirt road and via Mount Perry, though the two roads via Mount Perry, the nearer to Monto is closed for roadworks until 2023 and the other joins so far South it's effectively doubling-back for no net gain. So you can forget a quick charge or any charge - you're on your own.
Destination Charging
The Pub owners were happy to let me park and charge Tessie around the side near their 24-hour Laundromat and I initially plugged in a 10A lead and used the Tesla UMC. A full charge from 12% was predicted to take 25 hours. Good thing I wasn't in a hurry to leave!
The next day after a reasonable nights sleep I realised that in my haste the previous night to start charging, that there were actually multiple 15A outlets installed to power the larger dryers in the Laundromat. I was then able to swap out the 10A lead, for the 15A extension lead I'd brought just in case and was able to cut my charging time by 30% using the 15A tail on the Tesla UMC. In the end I was fully charged and ready to go 7 hours earlier than I'd originally expected.
Oopsie at 10pm
The problem with a 24-hour Laundromat as a charging point is that sometimes people want to use the machines. What I didn't realise is that there were only a handful of 15A outlets and hence when I "borrowed" one for 16 hours, there was always a chance someone would come along, need to use the Dryer and then unplug my car.
My Tesla notified me of an interruption to the charging at about 10pm on the second night. I went downstairs and found the cable had been unplugged and the dryer was drying someones clothes just happily. I quickly reconnected it to the adjacent outlet and we were back charging again. No harm, no foul.
Around Town
We were in Monto. Population 1,200 people. There are ZERO Electric Cars in town and most EVs never trek the highway since there are no charging points between Kingaroy and Biloela. So driving the Tesla turned a LOT of heads around town and when I was pulled over outside of Gayndah by the police for a roadside Random Breath Test (RBT) the officer commented he'd never pulled over a Tesla before.
When in Monto one of the locals was asking about the car, calling it a "City Electricity Car" which sounded so weird to my ears, but I've since been calling the Tesla "My Electricity Car". I meant, it kinda is…
Of course there were other travellers from afar that knew what a Tesla was and some kids at Cania Gorge car park did some poses and a dance for SentryCam that was hilarious, so that was cute. I digress…
Side Trip
There's some interesting things to see in and around Monto, but the most popular place to visit is a 20 minute drive North of town. The Cania Gorge is a rugged but beautiful sandstone gorge carved out by Three Moon Creek over thousands of year and has lots of lookouts, small caves and hanging rocks as well as an abandoned Gold Mine.
We decided to make the trek on Saturday morning and took Tessie up to the Cania Dam, then worked our way back to town stopping at the primary bushwalking hotspot. We were bushwalking for about an hour and a half and saw some inspiring scenery. Well worth the look!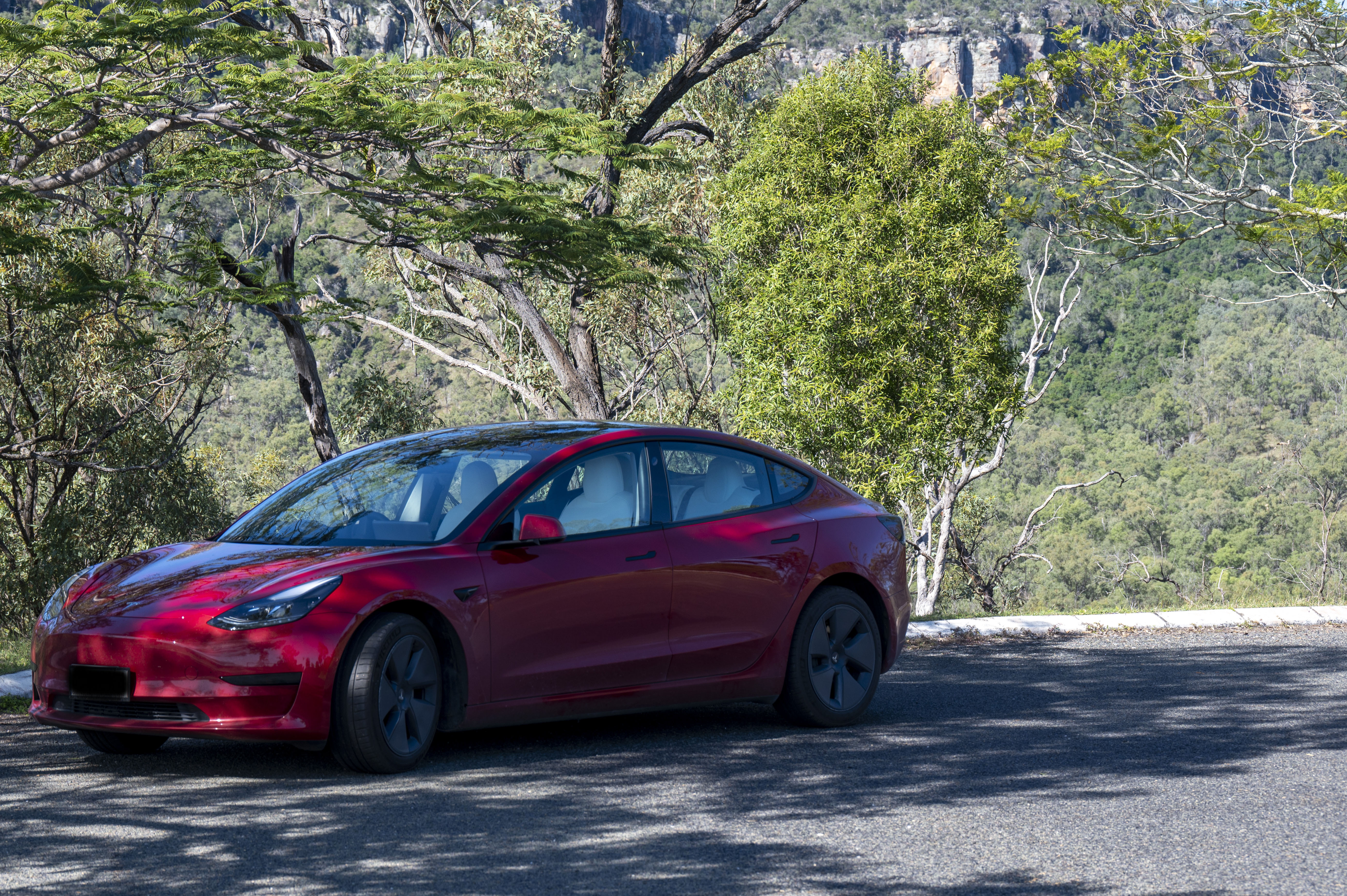 The Drive Back
After a recommendation from the publicans, we were determined to drive an extra 6 kilometres, though it took an extra 18 minutes, to go back via Goomeri, and stopped at the The Goomeri Bakery to grab brunch. There was a strong headwind in the morning so as an extra insurance policy we drove for 200 kilometers (125mi) at 90kph (56mph) then realised we'd reach Gympie with 20% charge which was more than enough.
The rest of the trip was uneventful after a quick 45% charge at the Supercharger we made it home with plenty of range to spare.
The Statistics
There are so many variables that go into range I'm not going to cover those here. To be honest we're looking at those we can control: starting charge level, running the Heating/Air Conditioning, using the Aero-Wheel covers, tyres inflated to the correct pressure, driving with Chill Mode enabled just choosing to drive as smoothly as possible and for one leg as mentioned, driving at 10kph below the speed limit.
What I can't control are things like headwind, external temperature and elevation changes. Taking much the same road means this trip can provide many leg by leg averages I can hopefully extrapolate to better predict future trips. The elevation difference is 219m from Home to Monto, hence there's a penalty on the outbound trip for sure and more care is needed in that regard.
Outbound trip:
Home-ish –> Gympie 155Wh/km (107k) +33m Elevation
Gympie –> Mundubbera 168Wh/km (201k) +106m Elevation
Mundubbera –> Monto 169Wh/km (110k) +80m Elevation
Weighted average: 163Wh/km
Homebound trip:
Monto –> Goomeri 146Wh/km (248k/200k @90kph)
Goomeri –> Gympie 132Wh/km (76k)
Gympie –> Home 140Wh/km (119k)
Weighted average: 140Wh/km
The homebound trip was marred by headwinds on the long first leg to Goomeri that, had I not travelled at 90kph, would have been much worse energy consumption, though it probably still would have been fine.
Outback Irritations
The Australian "Outback" is difficult to define as to where it starts and where it ends, and does it really matter anyway? Suffice it to say when you're out on those highways where there's limited mobile phone service it means that many of the features city-dwellers take for granted just don't work once you're away from major civilisation. Here are some realities that hit you.
AM Radio
For those that don't know, the problem with AM Radio is that the variable speed drives, inverters and power electronics that comprise the drive train in an Electric Vehicle create a lot of broad-spectrum EM noise. Unfortunately a large amount of this is at lower frequencies across the AM Radio band to the point at which Tesla gave up trying to have an AM Radio in their cars. In Australia the outback is well covered by AM Radio stations even to this day, with ABC, Radio National and some commercial stations well catered for. Whether you like their content or not isn't the point…Teslas need not apply.
FM Radio
Tesla have a "simple" and easy FM Radio interface where you have a "Favourites" list of Radio Stations you can build yourself, and a "Direct Tune" option. When you're in range of cellular data (so far as I can tell) another option appears (it can not be summoned you just have to wait for it to appear) called "Stations" which is a list of FM stations that the Tesla believes it can find or that should be there based on your location.
Under Direct Tune there is no way to 'Seek' for an FM Station. Knowing a handful of FM Station frequencies along the road (thanks mostly to roadside billboard signage) we were able to tune directly to some stations and Favourite them for quick access, even when they didn't appear in the Tesla generated "Stations" list (when it bothered to appear).
It would be better for the driver to decide what level of FM drop-out is acceptable rather than an algorithm in the Tesla. Adding a simple seek button like every other FM Radio I've ever used in a car, would be easy to implement. You press and hold for 2 seconds, the FM Radio seeks up or down the band until it finds a signal then pauses and waits for a few seconds. You then select that station and it stops there, or you don't and it then keeps scanning until it finds something else. The FM Carrier threshold to be set to a reasonably faint level because I'd rather listen to choppy FM sometimes than silence.
I found myself searching the internet for radio station frequencies that might be listenable along that road and pre-entered them before we hit the road but honestly, that's a horrible hack and this is exceptionally easy for Tesla to fix with a software update.
Satellite Radio
SiriusXM is regrettably not offered in Australia, despite the fact it does actually work in Australia. Tesla don't offer it here on the basis that SiriusXM don't offer it here which makes sense, so I don't blame Tesla for that. Honestly it would be absolutely worth the money if you're doing lots of outback travel in Australia to have a Satellite radio service. With the progression of Starlink there's probably a superior option in Satellite internet, but that's an expensive option and whilst some have rigged up a Starlink antenna inside their Model 3 in Australia already, it's not exactly discrete or compact and not really convenient - at least not yet. Maybe someday…
TeslaMate Telemetry
I was really interested in pouring over the telemetry data from Tessie when I got home as I'd set up my own private TeslaMate VM in late 2021 after I bought my Tesla. I was partly surprised but partly not then I found data gaps between locations on the road trip that loosely aligned with my recollection of cellular coverage gaps. The extract below clearly shows those gaps in Telemetry Data.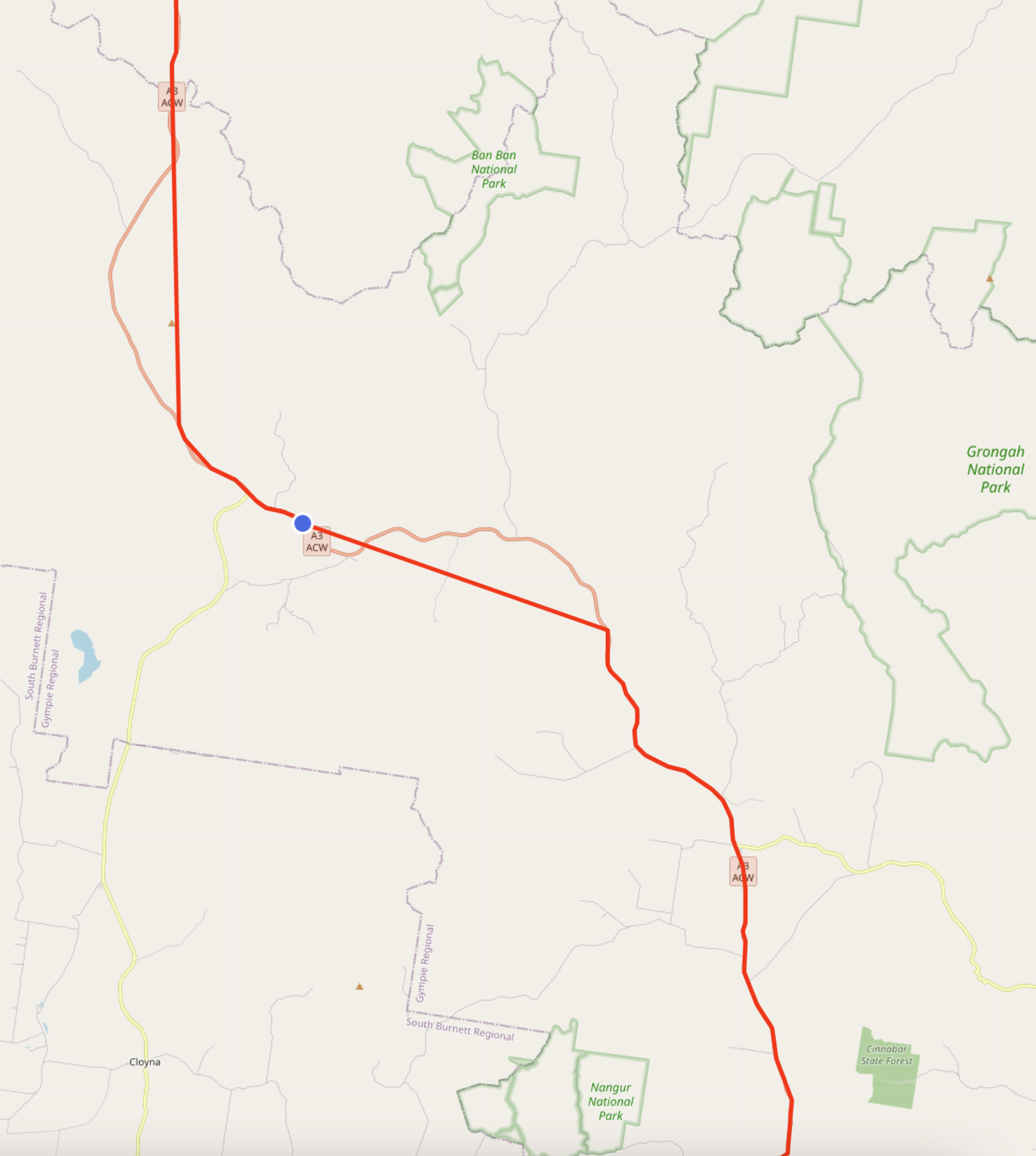 Hence it's clear that the Tesla data streaming API has a limited buffer and once you've been out of reception for a certain amount of time, the data falls off a cliff and dissolves into nothing, and it never makes it to the Cloud (and hence TeslaMate). Good to know.
Conclusion
Unsurprisingly this is first time since owning my Tesla that I've felt range concern. (Don't call it Anxiety - I know what Anxiety feels like and this wasn't that…)
That said it's also the first time I've pushed the limits of my car in terms of range and it performed exceptionally well. I found that the Tesla trip graph wasn't the best indicator and that the much liked A Better Route Planner was too pessimistic. That said it's highly configurable and in terms of power consumption it can be adjusted. This trip has allowed me to tweak the Model 3 default in ABRP from 160Wh/km to 150Wh/km as its predictive default making future trip predictions more accurate.
Of course the whole trip could have been much less stressful with a few DC Fast Chargers installed at mid-points on the trip. There are plenty of reasonably sized towns on that road: Goomeri, Mundubbera, Eidsvold for example. That's simply a matter of time. The QESH (Queensland Electric Super Highway) Phase 3 is currently under construction but none of their chargers are destined for the Burnett Highway.
Some councils are taking it into their own hands with partnerships with industry like the new Kingaroy charger for example. More destination chargers will eventually start appearing making trips on the Burnett easier for overnighters or even part-day trippers, but for me at least one thing is for sure: touring in the Model 3 was very comfortable, very relaxing and now I know I can make those legs without too much difficulty - I'm more confident in trips like that again in the future.