About a month ago I started renting a used Nikon 200-500mm Zoom Lens that was in excellent condition. Initially my intention was to use it for photographing the kids playing outdoor sports, namely Soccer, Netball and Cricket. Having said that the thought occurred to me that it would be excellent for some Wildlife photography, here, here and here, and also…Astrophotography.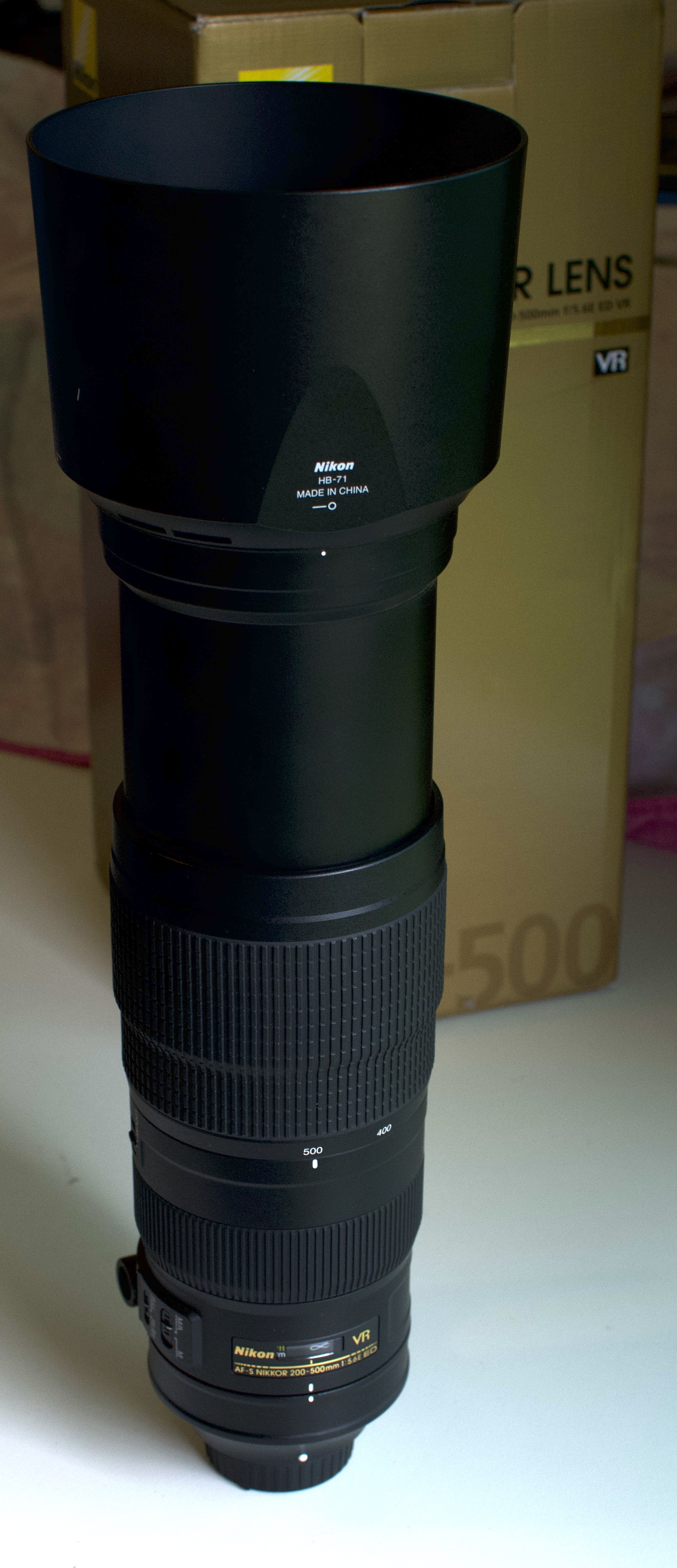 I was curious just how much I could see with my D500 (1.5x as it's a DX Crop-sensor) using the lens at 500mm maximum (750mm effective). The first step was to mount my kit on my trusty 20 year old, ultra-cheap, aluminium tripod. Guess what happened?
The bracket that holds the camera to the tripod base snapped under the weight of the lens and DSLR and surprising even myself, in the pitch dark, I miraculously caught them before they hit the tiles, by mere inches. Lucky me, in one sense, not so lucky in another - my tripod was now broken.
Not to be defeated, I applied my many years of engineering experience to strap it together with electrical tape…because…why not?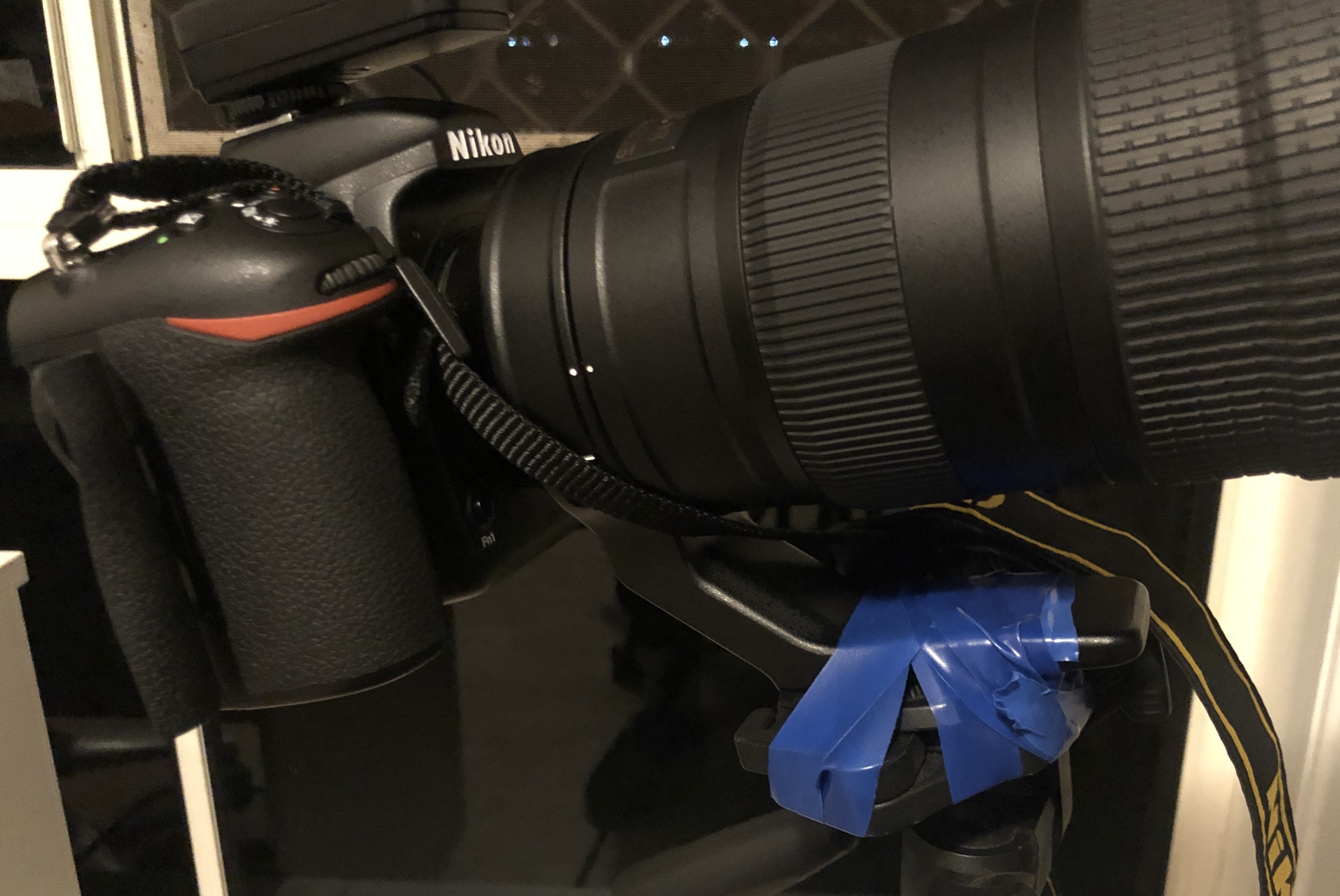 Using this combination I attempted several shots of the heavens and discovered a few interesting things. My PixelPro wireless shutter release did not engage the Image Stabilisation in the zoom lens. I suppose they figured that if you're using the remote, you've probably got a tripod anyhow so who needs IS? Well John does, because his Tripod was a piece of broken junk that was swaying in the breeze - no matter how gentle that breeze was…
Hence I ended up ditching the Tripod and opted instead for handheld, using the IS in the Zoom Lens. The results were (to me at least) pretty amazing!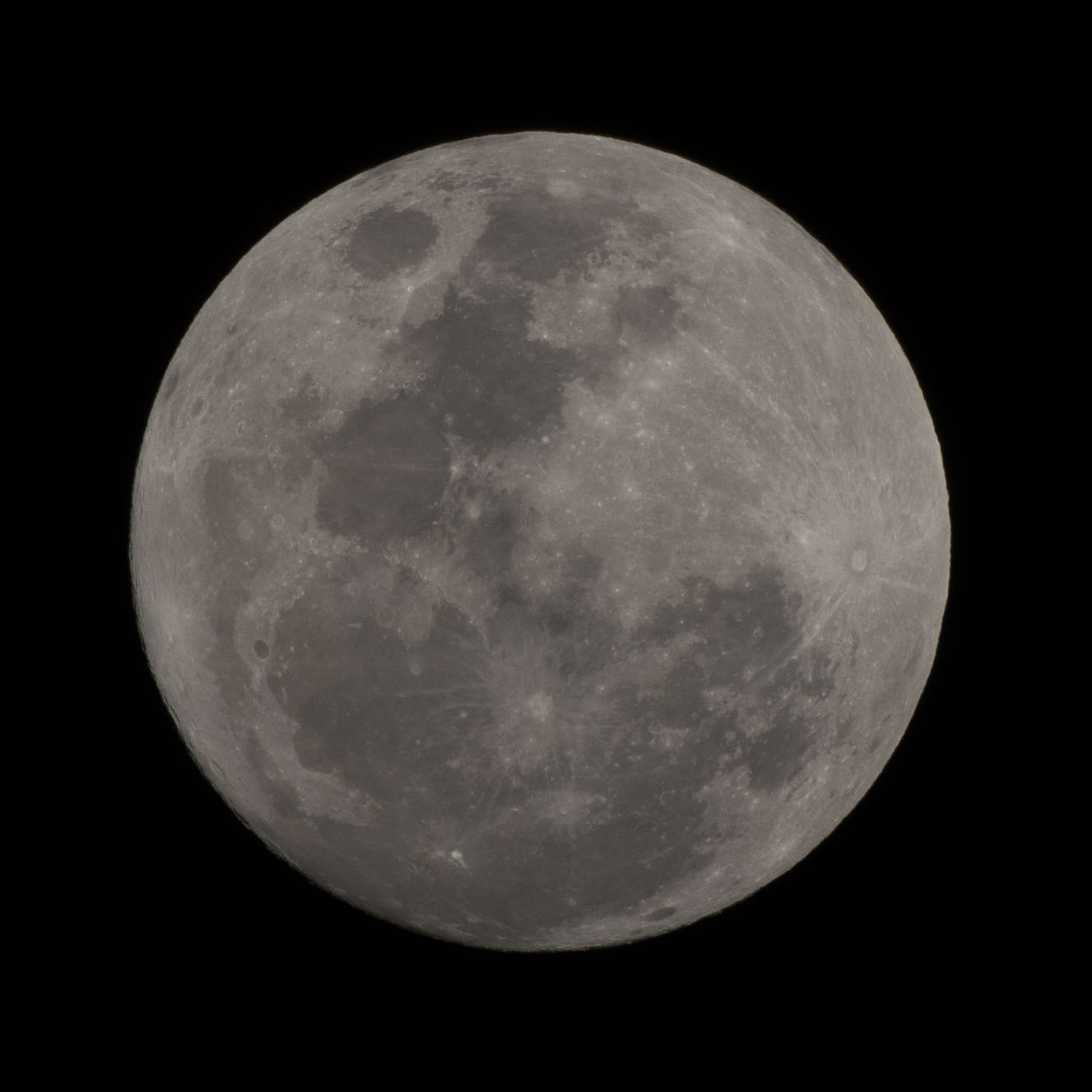 The Moon I photographed through all of its phases culminating in the above Full Moon image. By far the easier thing to take a photo of and in 1.3x crop mode on the D500 it practically filled the frame. Excellent detail and an amazing photograph.
Of course, I didn't stop there. It was time to turn my attention to the planets and luckily for me several planets are at or near opposition at the moment. (Opposition is one of those astronomy terms I learned recently, where the planet appears at its largest and brightest, and is above the horizon for most of the night)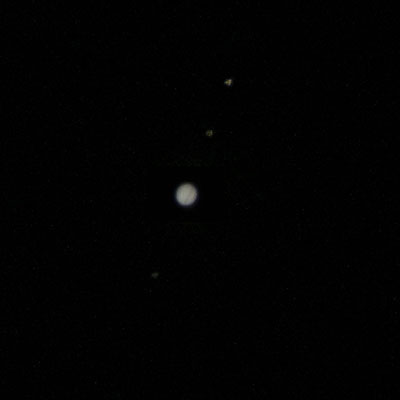 Jupiter and its moons, the cloud band stripes are just visible in this photo. Stacked two images, one exposure of the Moons and one of Jupiter itself. No colour correction applied.

Saturn's rings are just visible in this image.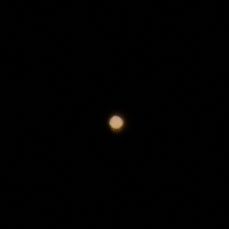 Mars is reddish and not as interesting unfortunately.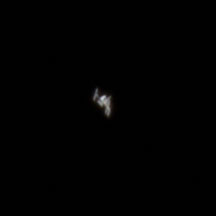 The ISS image above clearly shows the two large solar arrays on the space station.
What's the problem?
Simple. It's not a telescope…is the problem. Zoom Lenses are simply designed for a different purpose than maximum reach taking photos of planets. I've learned through research that the better option is to use a T-Ring adaptor and connect your DSLR to a telescope. If you're REALLY serious you shouldn't use a DSLR either since most have a red-light filter which changes the appearance of nebulae, you need to use a digital camera that's specifically designed for Astrophotography (or hack your DSLR to remove it from some models if you're crazy enough).
If you're REALLY, REALLY interested in the best photos you can take, you need an AltAz or Altitude - Azimuth mount that automatically moves the camera in opposition to Earths rotation to keep the camera pointing in the same spot in the night sky for longer exposures. And if you're REALLY, REALLY, REALLY serious you want to connect that to a guide scope that further ensures the auto-guided mount is tracking as precisely as possible. And if you're REALLY, REALLY, REALLY, REALLY serious you'll take many, many exposures including Bias Frames, Light Frames, Dark Frames, and Frame Frames and image stack them to reduce noise in the photo.
How Much Further Can You Go With a DSLR and Lenses?
Not much further, that's for sure. I looked at adding Teleconverters, particularly the TC-14E (1.4x) and then a TC-20E (2x) which would give me an effective focal length of 1,050mm and 1,500mm respectively. The problem is that you lose a lot of light in the process and whilst you could get a passable photo at 1,050mm, with 1,500 on this lens you're down to an aperture of f/11 which is frankly, terrible. Not only that but reports seem to indicate that coma (chromatic aberration) is pretty bad with the 2x Teleconverter coupled with this lens. The truth is that Teleconverters are meant for fast primes (f/4 or better) not a f/5.6 Zoom.
Going to an FX Camera Body wouldn't help since you'd lose the 1.5x effective zoom from the DX sensor, although you might pick up a few extra pixels, the sensor on my D500 is pretty good in low light, so you're not going to get a much better low-light sensor for this sort of imaging. (Interestingly the pixel density of the sensor between the D500 DX and D850 FX, leaves my camera with 6.7% more pixels per square cm so it's still the better choice)
How Many Pixels Can You See?
Because I'm me, I thought let's count some pixels. Picking Jupiter because it's big, bright and easy to photograph (as planets go) with my current combination it's 45 pixels across. Adding 1.4x Teleconverter gets me to an estimated 63 pixels, and 2.0x to 90 pixels diameter. Certainly that would be nicer, but probably still wouldn't be enough detail to make out the red spot with any real clarity.
Just a Bit of Fun
Ultimately I wanted to see if it was possible to use my existing Camera equipment for Astronomy. The answer was: kinda, but don't expect more than the Moon to look any good. If you want pictures somewhere between these above and what the Hubble can do, expect to spend somewhere between $10k –> $30k AUD on a large aperture, large focal length telescope, heavy duty AltAz mount, tracking system and specialised camera, and add in a massive dose of patience waiting for the clearest possible night too.
If nothing else for me at least, it's reawakened a fascination that I haven't felt since I was a teenager about where we sit in the Universe. With inter-planetary probes and the Hubble Space Telescope capturing amazing images, and CGI making it harder to pick real from not-real planets, suns and solar systems, it's easy to become disconnected from reality. Looking at images of the planets in ultra-high resolution almost doesn't feel as real as when you use your own equipment and see them with your own eyes.
So I've enjoyed playing around with this but not because I was trying to get amazing photographs. It's been a chance to push the limits of the gear I have with me to see a bit more of our Solar System, completely and entirely on my own from my own backyard. And that made astronomy feel more real to me than it had for decades.
The stars, the moon, the planets and a huge space station that we humans built, are circling above our heads. All you need to do is look up…I'm really glad I took the time to do just that.