For something completely different I felt like doing a bit of a personal retrospective of different cars I've owned over the last 28 years for anyone that's interested (probably not many).
1 Ford Laser 1996 - Oct 1999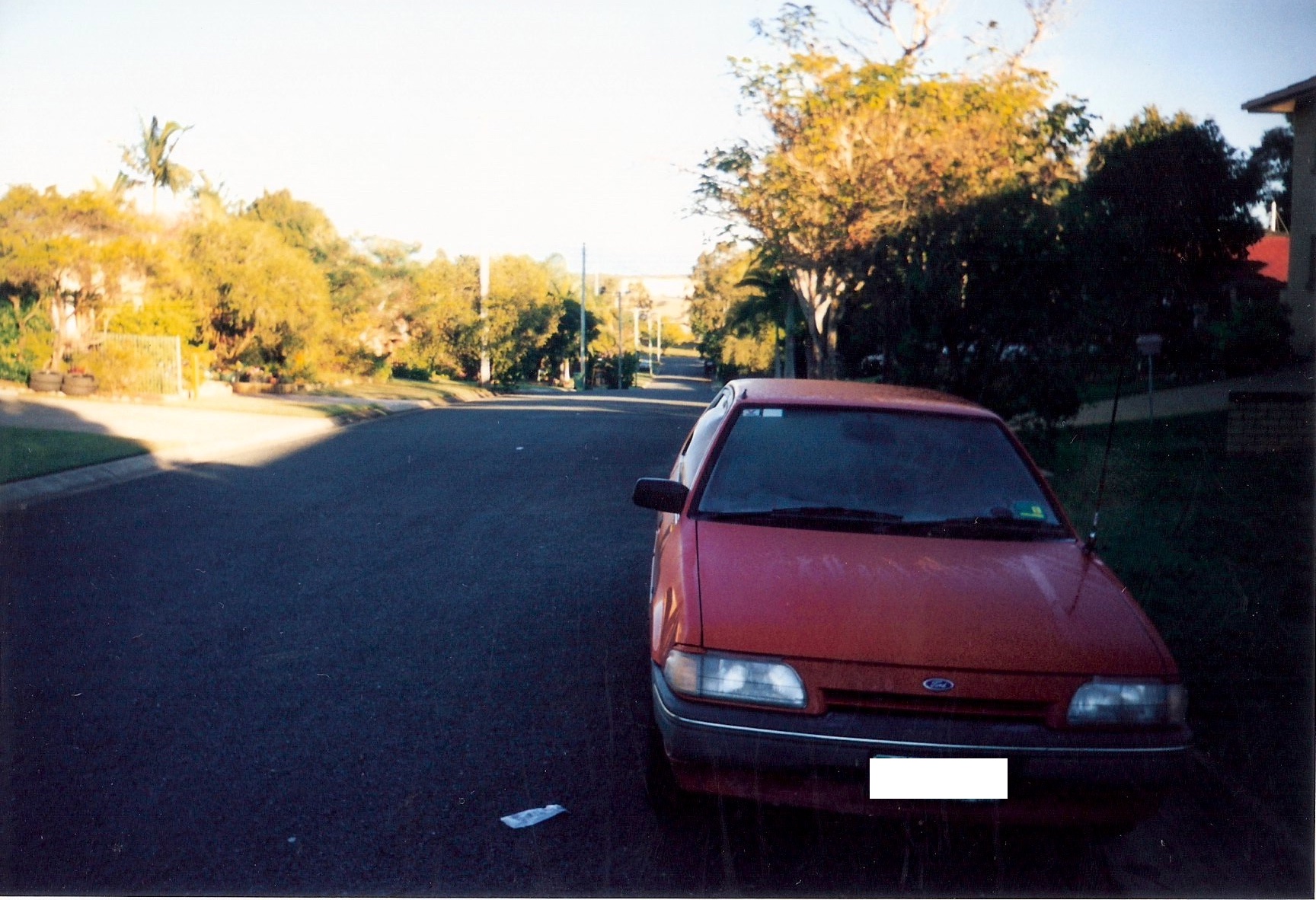 My first car was a hand-me-down from my mother. My grandparents had passed away and there was an excess of vehicles, leaving me with an Automatic Red 1988 Ford Laser Hatchback. This car did the round-trip between Rockhampton and Sydney three times during 1999 when I worked at COM10. This is one of only a small number of photos I have of the Laser.
To drive it was sluggish, handled very imprecisely and was the entry level model with no air-conditioning and manual windows. I did fit a few things though in my teenage years: a decent stereo, a cruise control aftermarket kit, a CB Radio and later my IC-706 Amateur Radio (2M band whip shown in the photo). It was a good, reliable car though that I serviced myself where I could, changing the oil several times. Ultimately though I took a permanent job with Nortel in Calgary and returned the Laser to my mother, and it then went to my other sister, Alana for her to use.
2 Subaru Impreza Oct 2000 - Feb 2001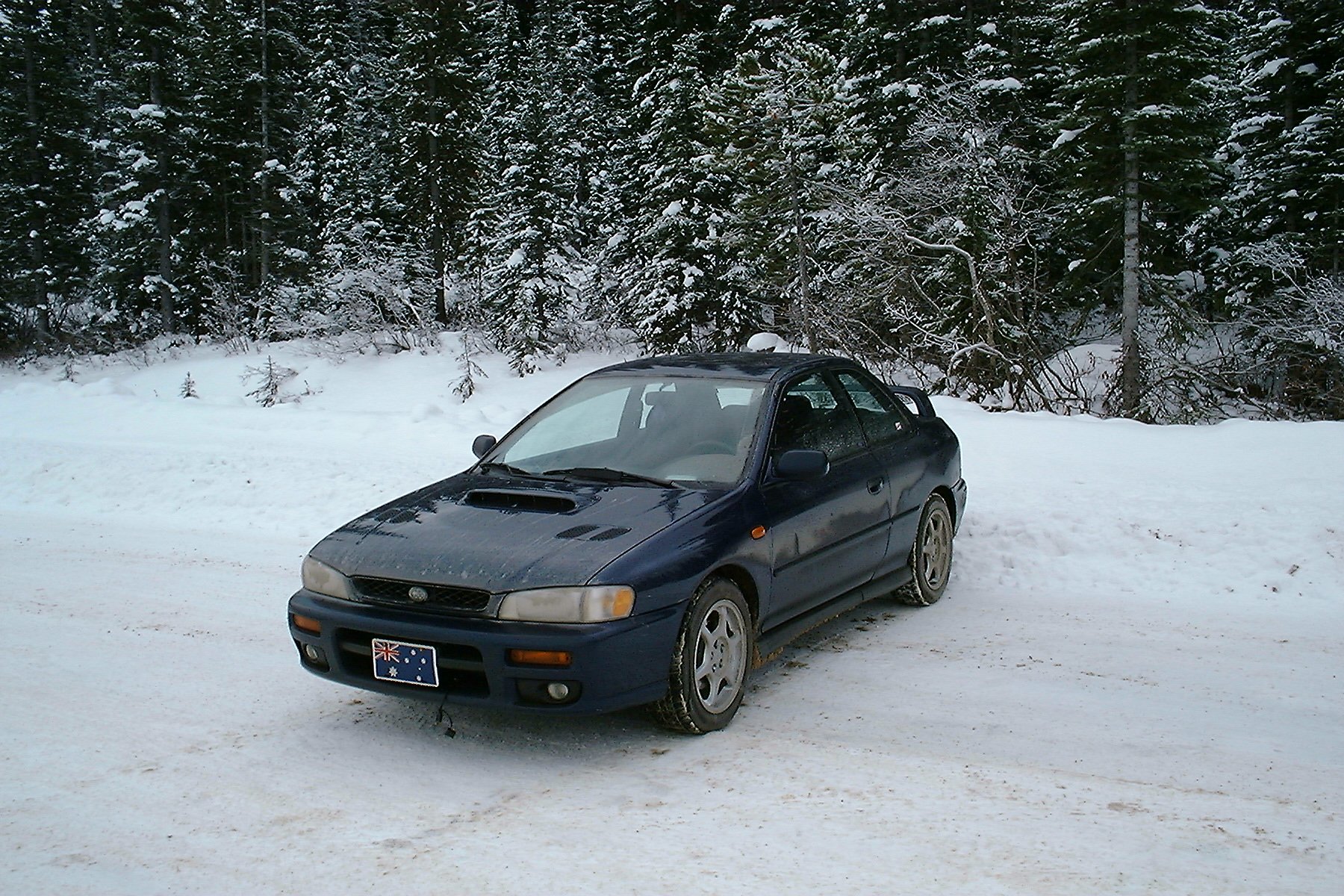 With my Canadian Permanent Residency and Alberta drivers licence in hand, I was able to buy a car finally in September, 2000. Heavily influenced by my environment I chose a car with All-Wheel Drive presenting excellent grip in the snowy conditions for a quarter of the year in Calgary. The WRX model that I wanted wasn't available in Canada at that point, so I settled with a Manual 2000 Subaru Impreza 2.5RS Coupe in Blue, since the Red Subaru offered at that time wasn't a very nice Red.
It had the usual Canadian fittings, like a block heater (note the cable under the number plate), but I supplied my own decorative front number plate since in Alberta only the rear plate is required by law. The photo was taken in the car park at Lake Louise. It was a joy to drive this car, though I owned it only for a very short period (about four months). It had a sunroof and excellent heating as I owned it through a Calgarian winter, I only drove with with the windows down and sunroof open a handful of times, rugged up to the nines.
When Nortel sacked half of it's global employees (including me) I returned home, and since the car wouldn't fit in my pocket, and was for a LHD country, I had to sell it at a mind-blowing loss. It wasn't as upsetting as selling my Kawai though. I left the country with effectively nothing, having lost my entire redundancy payout in the debt gap from selling those two items.
3 MGF Aug 2001 - Aug 2003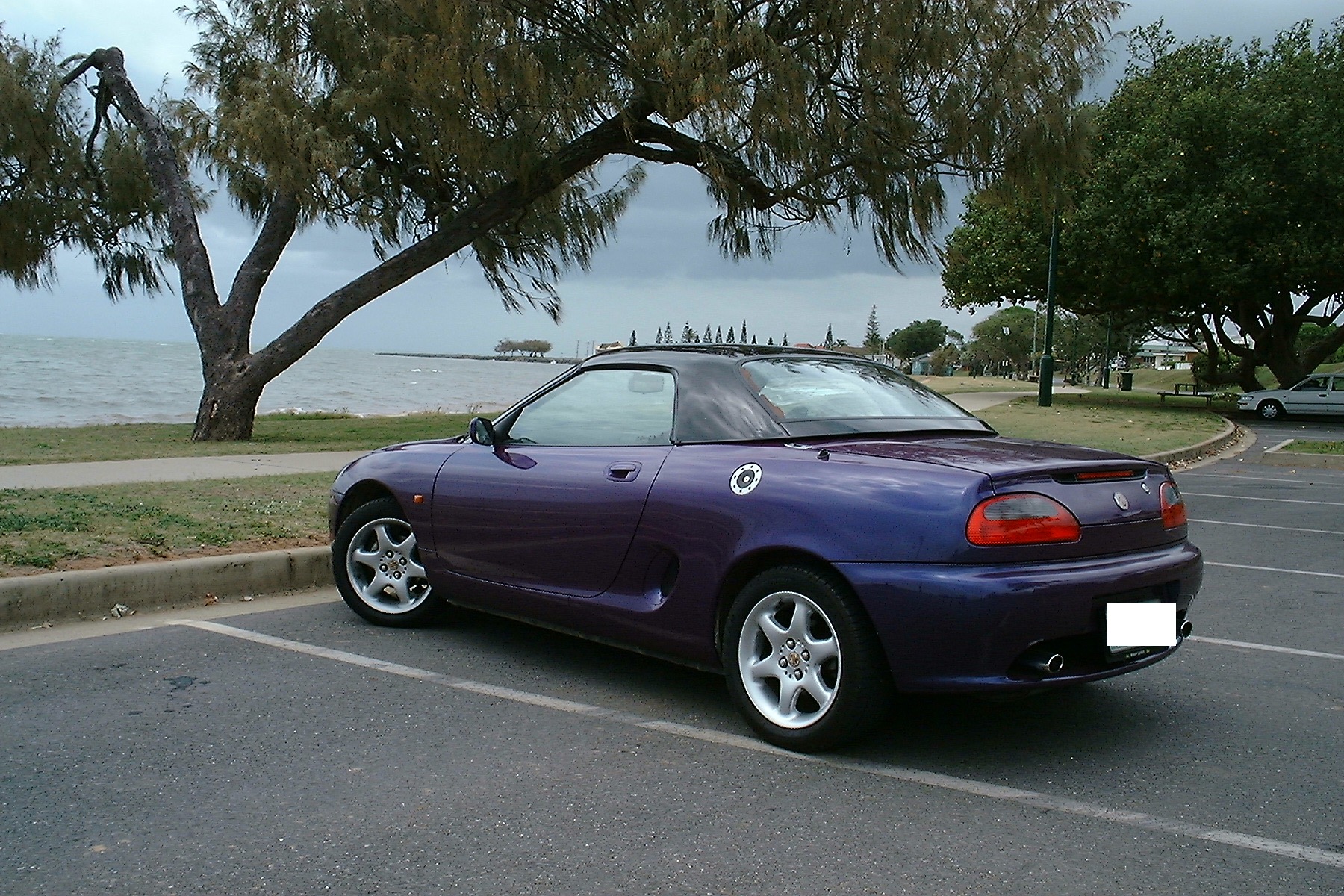 Returning to Australia was both a relief and traumatic, with the job hunt in Brisbane taking four months to land a job at Boeing Australia. With a few months to lick my wounds I set about investing in a very different car. My father had rebuilt a White MGB of which I had a fond memory of driving in, sitting on the battery box, and MG had re-opened (again) and in 1997 released the MG(F). I test drove one on the Gold Coast and couldn't afford a new model, so picked a used Manual 1997 1.8L VT in Amaranth (call it Purple) Pearlescent finish, and grabbed a Hard Top to go with it for longer road trips (so much quieter and air-conditioning worked better with the hardtop on)
The MGF was a mid-engine car and whilst it wasn't the fastest it was so low to the ground and with near-perfect weight distribution it cornered almost like it was on rails. So much fun to drive but not without its quirks. The soft-top leaked (common problem with convertibles), the bonnet-boot (Frunk if you're American) was spatially challenged, the boot (Trunk) was poorly insulated behind the engine and got REALLY hot (cold shopping items need not apply) and the transmission was a wire-pulley system, not a direct linkage which made gear changes feel sloppy and imprecise. Top it off with needing 98RON fuel which was sometimes hard to find, it wasn't cheap to insure, maintain or run.
Despite this, I took the MG on a road trip from Brisbane to Rockhampton, and when I met the woman I would marry we fitted a luggage rack and drove to Tasmania and back in it for our Honeymoon. It was truly the most fun car I've ever driven, despite its flaws, and I still miss it today. That said, the Hydragas suspension and tyres cost $2,250AUD to replace in early 2003 and with my first child on the way, it was a wholly family incompatible car. The repayments were fine when I was single…but I had to make the grown-up (but soul-crushing) decision to sell the MGF, and get a car that was cheaper to own, operate and maintain.
4 Suzuki Sierra Aug 2003 - 2007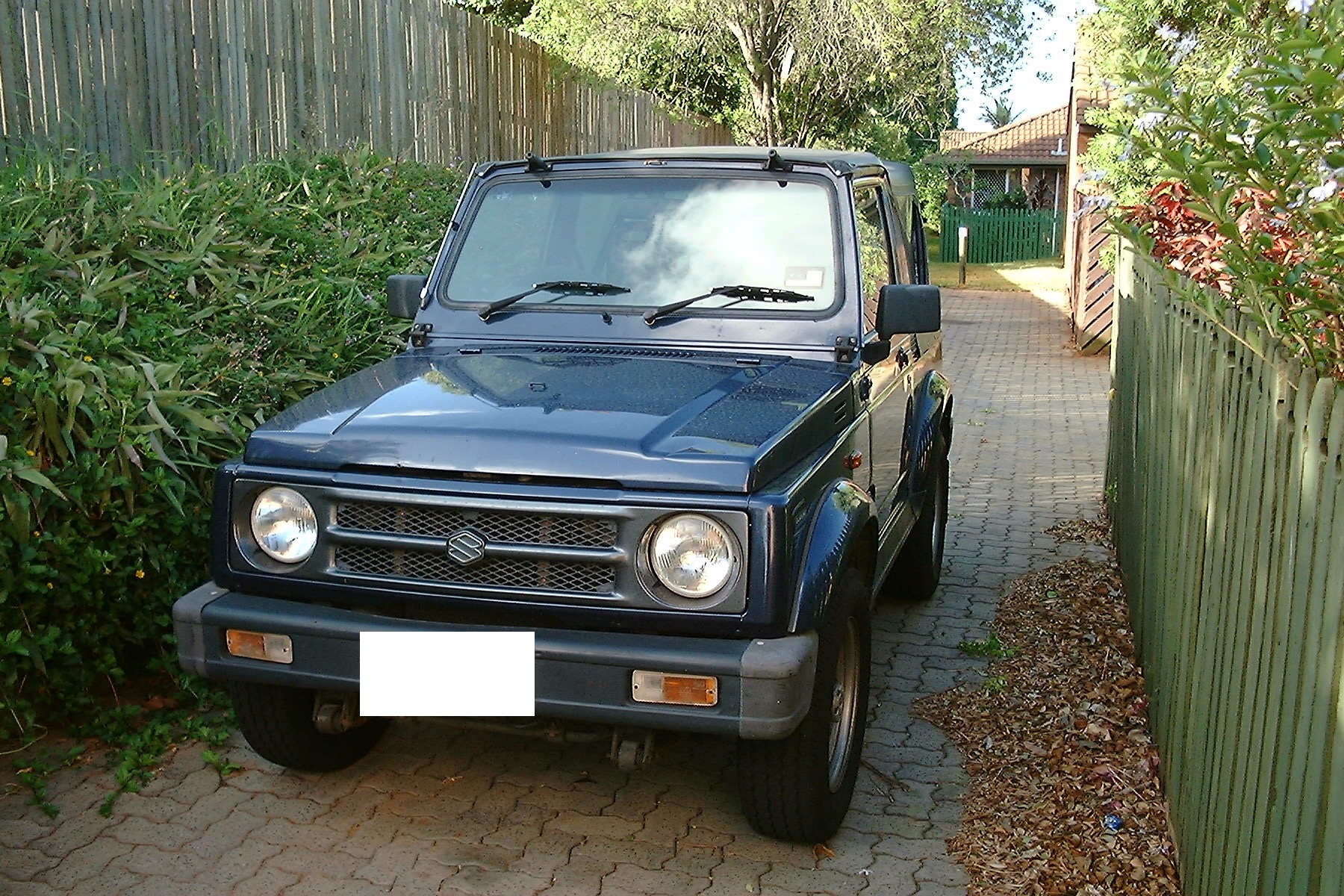 The Suzi was not the car I had intended. My budget was strict and tight, and whilst I'd wanted a 4WD, hard-top, automatic, air-conditioned car which would be more appropriate in my new job at MPA Engineering that required a lot more driving as part of it, it's not what happened. My new father-in-law got a great deal on a Blue 1995 Manual Suzuki Sierra, soft-top. It needed a new engine, had no air-conditioning and the soft-top was ripped and leaked in many places, however it was within the budget and he helpfully took care of everything for me through a private sale.
The car barely held 110kph on the freeway and was so light it got blown all over the road at speed. The gearbox felt like a truck, it was clunky, rigid, and not at all what I was used to in my last two cars. That said, take this thing on the sand, off-road, and it was amazing! Once I'd mastered the art of running it at high revs in low gears in the soft sand, there was nothing it couldn't handle. The only time it got bogged in soft sand, we all jumped out and a simple push got it going again - it was so light.
During it's life I invested in a new canvas soft top that didn't leak and it excelled in fuel economy. The company was required to reimburse people for kilometers travelled in their own vehicle and the economy was so good, I was actually making a decent amount of money from driving my own vehicle. As I rose through the ranks to Senior, got my RPEQ and was sent on still more jobs I was given a company car that would spell the end for the Suzi. The garage could only fit two cars: the family car and the work car and as our driveway was still unsealed at that point, we parked the Suzi on the grass.
It sat there for too long, undriven and unloved and eventually was sold to someone to try and get it to run again. It left on a car carrier. Despite its flaws, it was a unique car to drive and took me places on Moreton Island and Bribie Island I've never been able to get back to.
5 Daewoo Matiz Jan 2010 - May 2013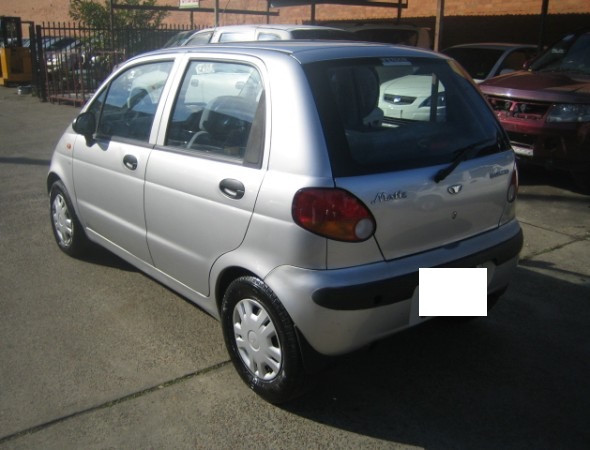 From approximately 2006 to 2009 MPA Engineering provided me with a company vehicle, so I didn't need my own. With the Suzi long gone and my career changing I had to once again buy a car. Taking a pay cut to get into KBR I had even less money than the Suzi. It led me to a Manual 2005 Daewoo Matiz in Silver. In time I came to refer to it as the "Silver Bullet" which was a name laced with no small measure of cold hatred. It travelled somewhat slower than a bullet, for example. Daewoo were already out of business and support locally was scarce but I had no budget for much else.
The Air-conditioning barely worked and it couldn't maintain 110kph on the freeway, with less power than even the Suzi I was lucky to get 105kph without a headwind. The car was tiny inside and out; cramped and the gears were sloppy and inconsistent. It had manual windows and when the passenger was sitting next to me, our shoulders would touch, meaning three people on the back row was not possible despite the number of seat belts fitted.
I hated this car so much, I never took a single direct photo of it, hence the photo above isn't of my Silver Bullet, but rather some other unfortunate persons. The role at KBR put me on the NPI Stage 2 project and with it came use of a project vehicle which I gladly accepted and used for nearly 18 months leaving the Silver Bullet in the driveway, though now we'd managed enough money to seal it with asphalt at least. It's end came in April of 2013 when I was driving on the highway at 100kph when the steering stopped being fully responsive.
The steering column has an upper and lower collet bearing, which Daewoo thoughtfully made out of plastic. When they both broke within a few weeks of each other, the steering arm flexed and bent in the column leading to an effective deadspot of about +/-25 degrees from center. Practical upshot: to drive in a straight line you needed to turn the wheel left to beyond 25 degrees then back right to beyond 25 degrees to try and keep it straight. Needless to say the car was no longer safe to drive (if it ever was) and I was lucky to get $500 trade-in for it off my next car, which I insisted would be new.
6 Honda Jazz May 2013 - CURRENT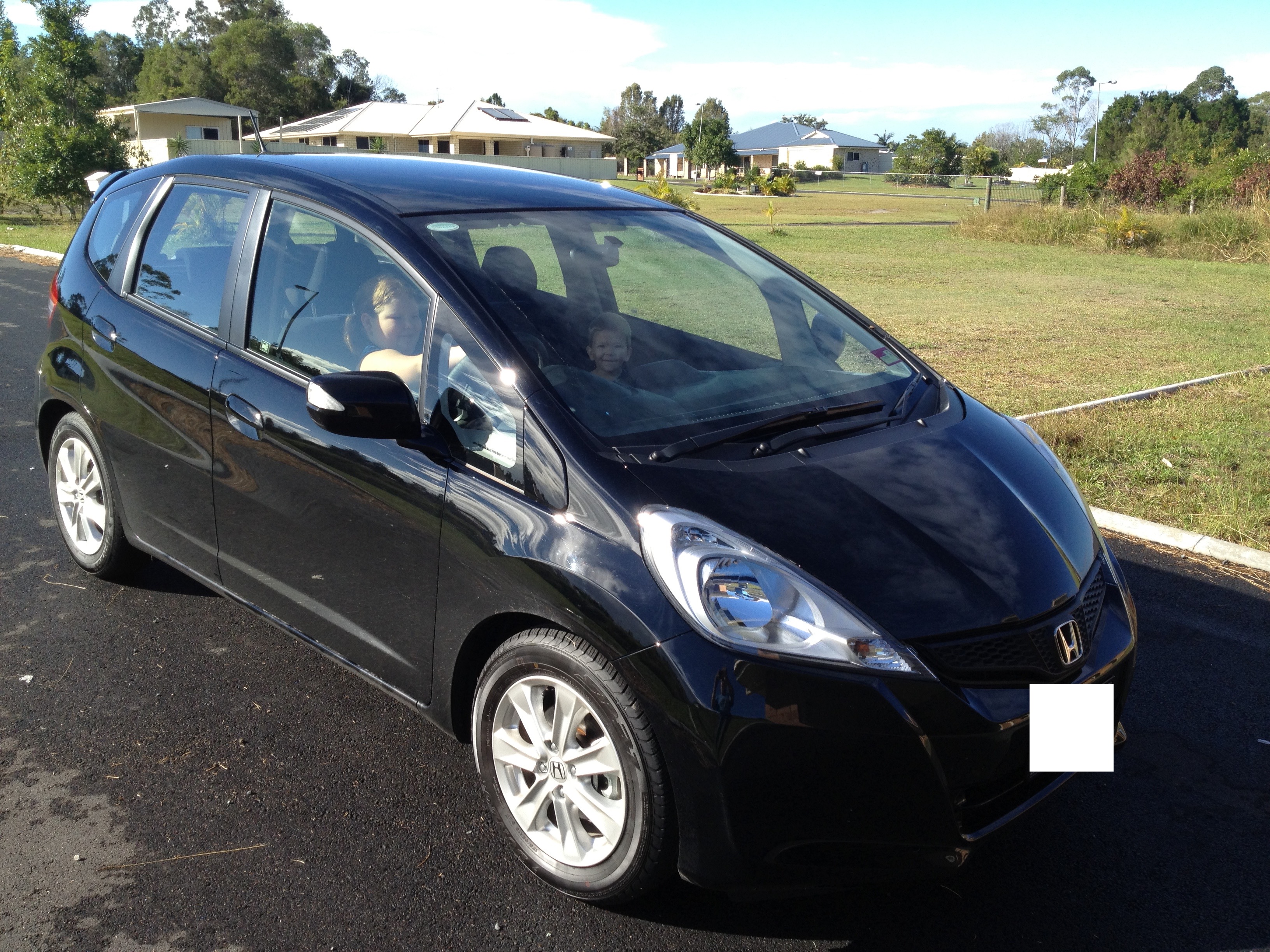 With a much healthier budget this time I researched a lot and test drove multiple cars but fell in love with Hondas - specifically the Jazz. The dealership had a floor stock of the previous years model, a Manual Black 2012 Honda Jazz Vibe Hatchback. I really wanted Red (still) but couldn't afford to wait or to stretch the budget any further. What struck me about the car was how responsive its steering was compared to every other car I'd driven. (No, the Silver Bullet doesn't count) It had good acceleration for its class and handled nicely in the corners. It was nicely finished inside and had a surprising amount of space given it's small stature.
Originally intended to be a run-about car between home and the train station, I spent my budget on something that was nicer to drive, rather than an Automatic but worse handling car. In time I came to regret the decision to get a manual, after several incidents on public transport I changed to driving into the city in 2016 and did so until the COVID19 pandemic, 5 days a week, every week. The commuting in traffic in a manual was unbelievably punishing.
That said…I still have it! It's running exceptionally well and my oldest son is learning to drive a manual and it will be his car once he gets his Provisional licence, hopefully in a few months time. It's fair to say that the Jazz has been the most reliable and consistent car I've ever owned, but with our family holiday dreams being shot to hell by the pandemic, my wife and I decided to focus on home rather than travel and after driving the Jazz for 8-1/2 years it was time for a car I really, really wanted.
7 Tesla Model 3 Nov 2021 - CURRENT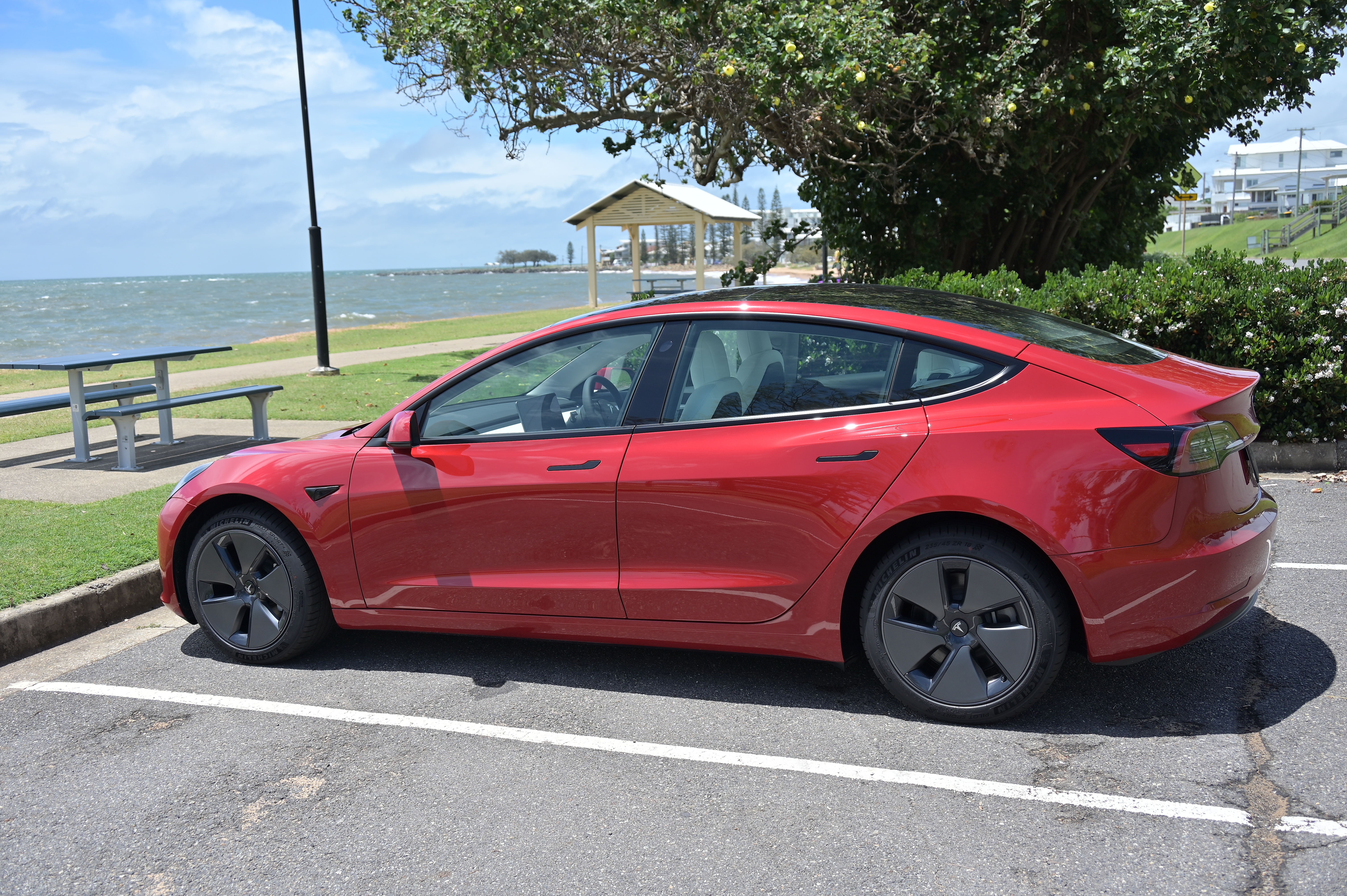 Despite the frustration of dealing with Tesla, after three months wait I finally received my 2021 Red Tesla Model 3 SR+ with White Interior. Being somewhat of a nostalgic person (in some instances) I took the Tesla to the same car park where I'd taken the photo above of the MGF some 20 years prior.
I'd been obsessed with electric cars since the EV1 and more recently the Nissan Leaf, however the range wasn't quite enough for me, living a 120k round trip commute to work each day. The Model 3 I originally christened the Tessalecta, but the family refers to her as Tessie, which has now stuck. The acceleration of 0-100kph in 5.6 seconds makes it the fastest accelerating car I've ever owned, pipping the Impreza by 1.5 seconds, but in the end that's not why I bought it. Its low center of gravity and weight distribution makes it corner like it's glued to the ground and the Auto-pilot functionality is incredible, though not without it's issues (don't try to over-use it on city streets).
The car is the most comfortable car I've ever driven or owned and it's changed my perception of driving from what had become a monotonous, sometimes stressful experience (especially to/from the office) back into something enjoyable. I remember with the MGF taking weekend drives to Rainbow Beach just to enjoy the drive (and the beach) and I recently did that trip again with my wife and daughter and it felt very much today in the Model 3, like it did in the MGF, 20 years ago.
Conclusion
I'm 45 years old now so I know that I'll probably have another car or two before I hand my licence in, so it's probably not the end of the story. For now at least the cars I've had the pleasure (and otherwise…Silver Bullet I'm looking at you…) of driving has been a reflection of the many different stages of my life, what fit my needs and what my budget could afford at that time.
It's been a crazy three decades that's for sure…